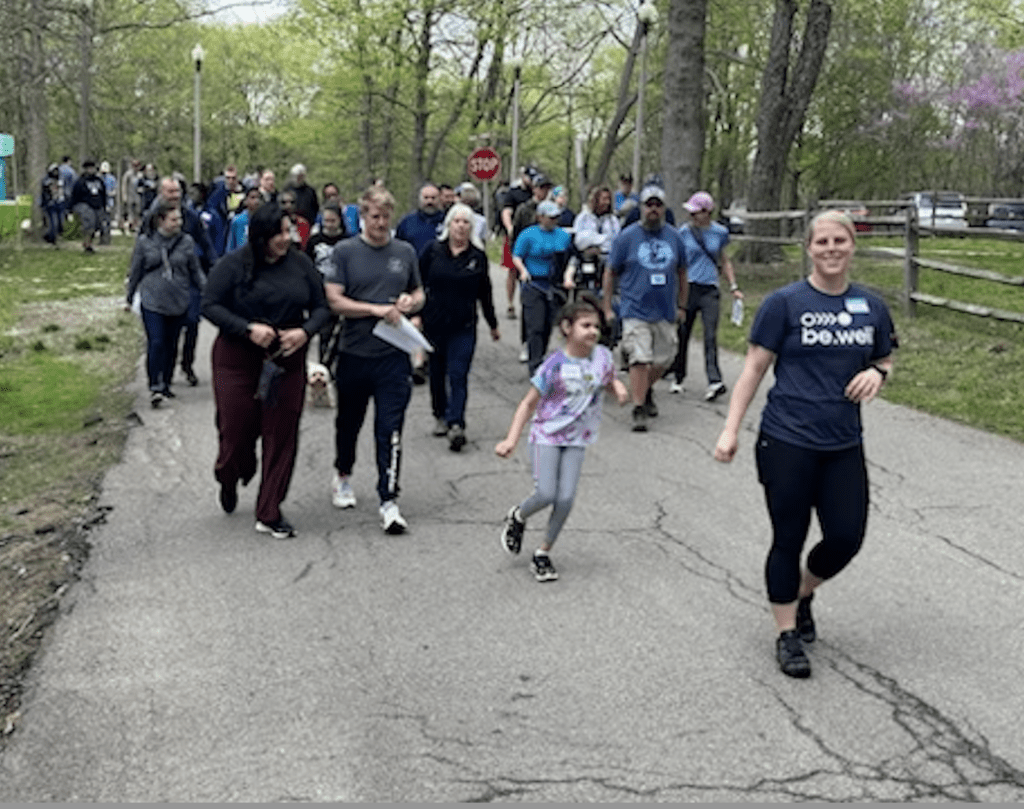 At Cincinnati Parks Foundation, we're about improving Cincinnati Parks and inviting everybody in! That's a perfect description of our be.well hiking program. Through a partnership with be.well and Luke5 Adventures, everyone can hike through Cincinnati Parks–regardless of ability. This weekend, we kicked off a new season of hiking that will take patients from Cincinnati Children's Occupational and Physical Therapy departments through different Cincinnati Parks, guided by a naturalist. Some go on foot, and some go on one of Luke5 Adventure's Rosie chairs, a wheelchair designed so those with physical limitations can still experience a hike.
Each hiker has received a special passport that lists all of the parks they will visit during this hiking season and guides them through all the different senses you can experience during a hike–the sound of the leaves and twigs crunching as hikers pass by, the sight of brightly colored birds, the fragrance of flowers, and the feeling of dappled sunlight through a forest canopy.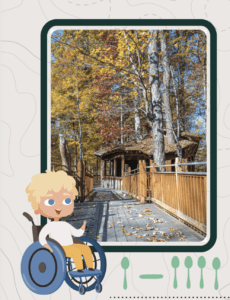 This spring, be.well hikers will be exploring Mt. Airy Forest, French Park, Burnet Woods, Ault Park, Alms Park, and Caldwell Nature Preserve.
Hikers are then invited to keep exploring on their own. So many of our parks have features that make them to accessible to everyone.
Accessibility features in Cincinnati Parks include:
Alms Park: paved walkways, boardwalk
Ault Park: Benches with accessibility pads in Carter's Grove, paved walkways, bike path, boardwalk
Bellevue Hill Park: accessible playground spinner, paved walkways
Burnet Woods & Trailside Nature Center: paved walkways, disc golf, accessible playground, boardwalk, bus stop
Caldwell Nature Preserve: Paved walkway, boardwalk
Eden Park: accessible walkways (Mirror Lake, Tom Jones Commons), accessible swing, bike path, bus stop
Fernbank Park: Paved walkways, bike path
Fleishmann Gardens: paved evergreen maze, walkways, bus stop
Hoffner Park: outdoor gym, bus stop, zero-entry gazebo
Inwood Park: PNC Grow Up Great All Inclusive playground, bus stop
Kennedy Heights Park: Soccer field, paved walkways, bus stop
Mt. Airy Park: Accessible playground spinner, accessible treehouse, paved walkway, disc golf
Sawyer Point and Yeatsman Cove: paved walkways, roller rink, pickleball and tennis courts, public landing, bike path, bus stop
Smale Riverfront Park: paved walkways, Barr Labyrinth, Carol Ann's Carousel, sprayground and waterplay areas, foot piano, bike path, bus stop
Stanbery: paved walkways, Kyle Plus Pavilion (zero-entry stage), accessible swing
Washington Park: paved walking loop, sprayground, entertainment porch, bus stop
Ziegler Park: sprayground, basketball courts, ping pong, chess/checkers, bocce, zero-entry pool, paved walking loop, bus stop
Paved trails in Cincinnati Parks include:
Mt. Airy: Everybody's Tree House, .2 miles (out and back)
Fernbank Park: Fernbank Park Loop, 1.2 miles
Otto Armleder Memorial Park: Armleer/Lunken Connector Trail, 2.4 miles
Smale Riverfront: Ohio River Trail, 4.7 miles (out and back)
Eden Park: Eden Park Pond, .3 miles loop
Parker Woods: Buttercup Valley and Parker Woods, 2.4 miles out and back
There's something for everyone in Cincinnati Parks. Get out there and enjoy them!