Views and Brews is a bus tour of hidden gems in the Cincinnati Parks system.
Spend a spring evening enjoying beautiful park views and sipping tasty craft brews while benefiting Cincinnati Parks Foundation. Participation in the Emerging Leaders' Views and Brews provides essential support towards our mission to conserve, enhance, and activate our community's shared greenspaces. 
Get Groovy with us at this year's Views & Brews Bus Tour!
Join us for the 2023 Views & Brews bus tour and support this year's fundraising mission of our Emerging Leaders, which includes raising funds for the revitalization of the Sawyer Point outdoor skating rink.   Enjoy an evening of craft brews and stunning views at a few of Cincinnati Park's hidden gems! Groovy attire encouraged!
Views & Brews Bus tour departs from Sawyer Point Riverfront Skating Rink, 925 Riverside Drive, Cincinnati, OH 45202
2023 Emerging Leaders Committee:
Chairs: Nikki Blazejewski • Megan Busam 
Sammy Ali • Katie Ausdenmoore • Brian Bartish • Maggie Bieger • Kelly Carrier • Emma Chaney • Noah Day • Chris DeNicola • Kathryn DeNicola • Katie Dulle • Brandon Dulle • Andy Flood • Emily Headley • Alyssa Johnston • Corey Lehan • Catherine Lentz • Mary Katherine McGuire • Elaine Messerly • Alex Morton-Green • Megan Ossenbeck (Kelly) • Liz Rains • Elaine Schomaker • Samantha Stryker • Jordan Stryker • Emily Thobe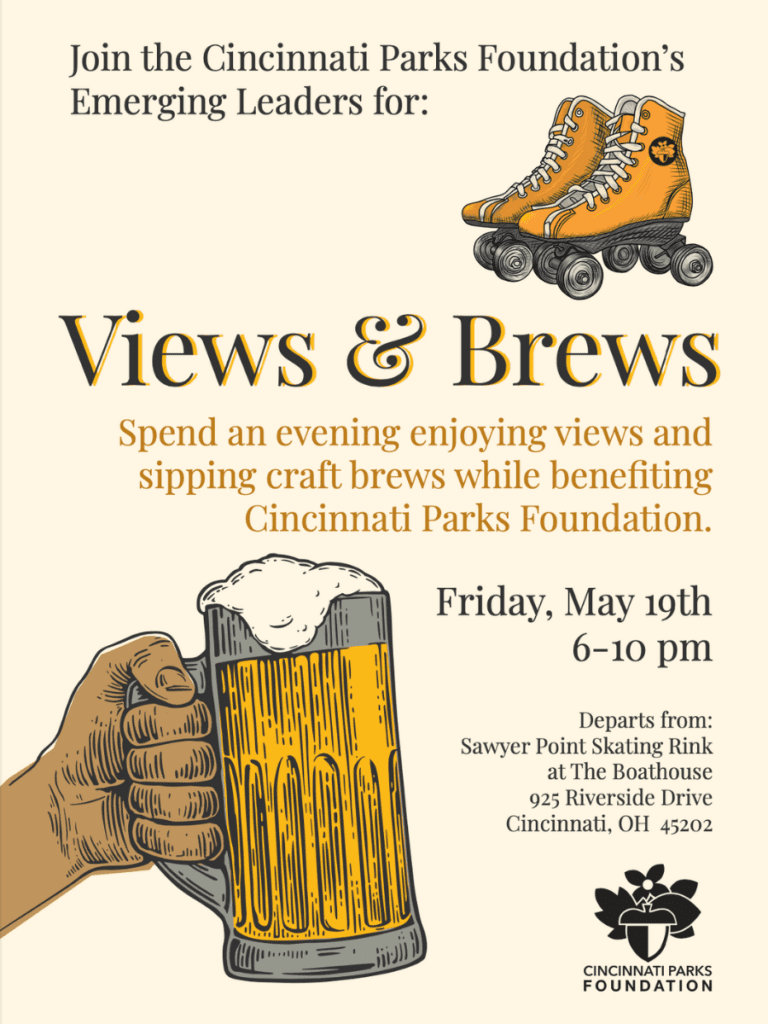 2023 Views & Brews Itinerary
Park or get dropped off at the Montgomery Inn Boathouse, 925 Riverside Drive, Cinti, OH 45202
6 pm – The fun starts at the Sawyer Point Skating Rink, adjacent to the Boathouse – an urban gem and public skating facility that is bringing social wellness programs to our city. Enjoy a pumped-up skating showcase from our community partners at Skate Downtown Cincinnati while sipping on refreshing craft brew and SWAY from MadTree Brewery, and your favorite appetizers from Montgomery Inn Boathouse.
(Please note: If you have skating experience and own skates, please bring them and join the fun. There will be NO rentals on site.)
7:15 pm – Hop on the bus for our second stop which includes the best view of the city – Mt Echo Park. Enjoy breathtaking views of downtown, dinner from everyone's favorite chicken and waffle food truck Chik'nCone, and amazing sips from Rhinegeist Brewery, including your favorite beers and their new RGBev hard craft beverages.
8:30 pm – Back on the bus for the third and final stop of the evening – Burnet Woods. Arrive at the iconic Bandstand for disco dessert by Peace & Love Doughnuts and botanical delights by the Botany Bar - a vintage mobile bar serving hand-crafted, artisan botanical beverages. Enjoy additional local brews and treats and funky music.
10 pm – Buses will return guests to our first stop at the Boathouse OR take guests to an optional After Party at Woodburn Brewery.
Please note: Guests going to the After Party are responsible for their own transportation back to the Boathouse or home following the event. Drink responsibly.  Take an Uber.  Assign a designated driver.
Ticket Sales Closed.
This event has been sold out.
To enquire about a waitlist, please contact Lindsay Wilhelm.