Thursday, March 30th, is Take a Walk in a Park Day, an occasion dedicated to encouraging people to explore and appreciate the natural beauty of their local parks. A walk in a park is a perfect way to escape stress and chaos while embracing nature's rejuvenating power. After all, we all know the power of our parks to boost our moods, bond with friends, get some exercise, or relax. As we wrap up Women's History Month, we spoke to many of the women in Cincinnati who are making a difference in our parks to find out what Cincinnati Park they will likely explore today.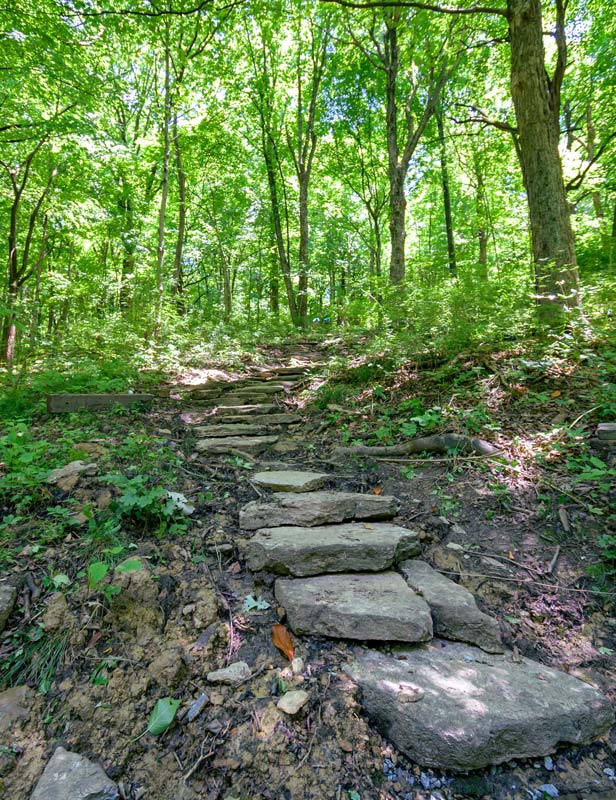 Jennifer Hafner-Spieser, Executive Director of Cincinnati Parks Foundation
I LOVE Mt. Echo! It's quite possibly the most gorgeous view of our city. Mt. Echo has a beautiful overlook, a historic pavilion, and beautifully designed shelters.
Deana Taylor-Brewer, Cincinnati Parks Foundation Board Member My favorite Park is Theodore Berry Friendship Park. I discovered this Park when I trained for my 1st marathon in 2005. It seemed pretty new at the time. However, more recently and much more exciting, I was married in the Park just last summer on June 10th. This Park will be forever special and near and dear to me.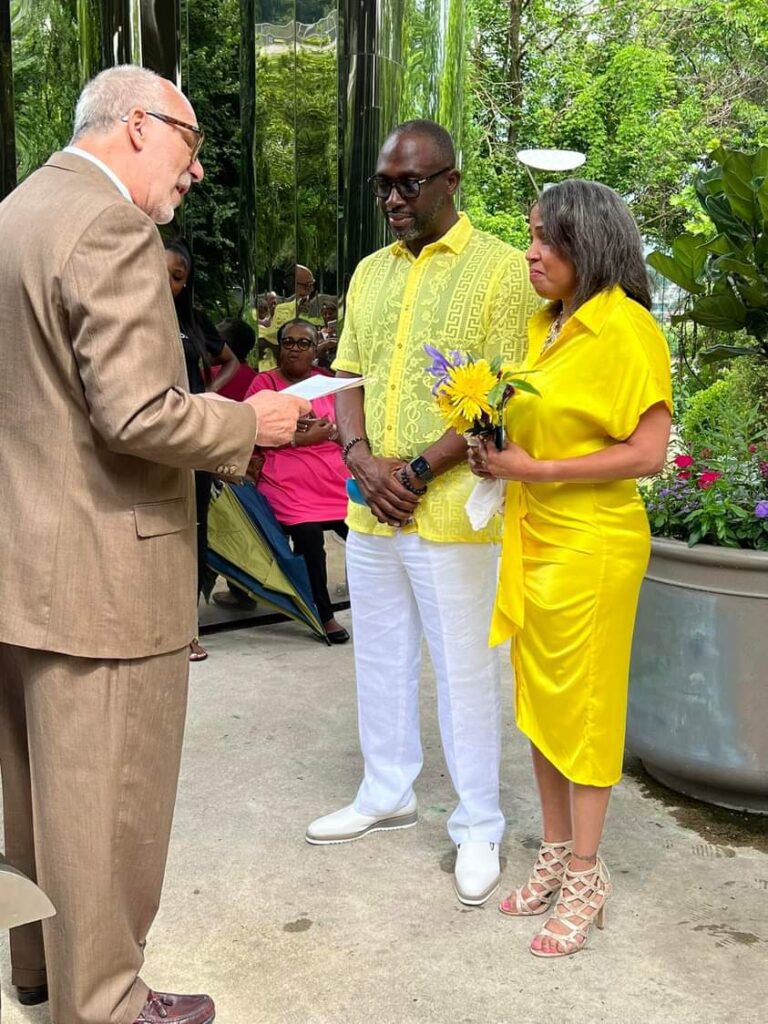 Christyl Johnson-Roberts, Cincinnati Parks Volunteer Coordinator
As an employee, it's Buttercup. That Park is so special and healthy because of the years of volunteer service, advocacy, and community resources poured into it. It's also in my neighborhood, and it's such a great forest, literally in the center of a very urban neighborhood. Eden park is my personal favorite. It's where I take people who have never been here. It's a testament to how well-planned our developed parks are, with the vistas and beautiful water features, plus it is the home of Krohn.
Jennifer Devine, Philanthropy Officer for Cincinnati Parks Foundation
I love California Woods. Every time I go there, I let my mind escape as I walk through the trails, listening to the babbling brook and catching wildlife. I imagine fairies floating through the trillium trail. It's a magical place.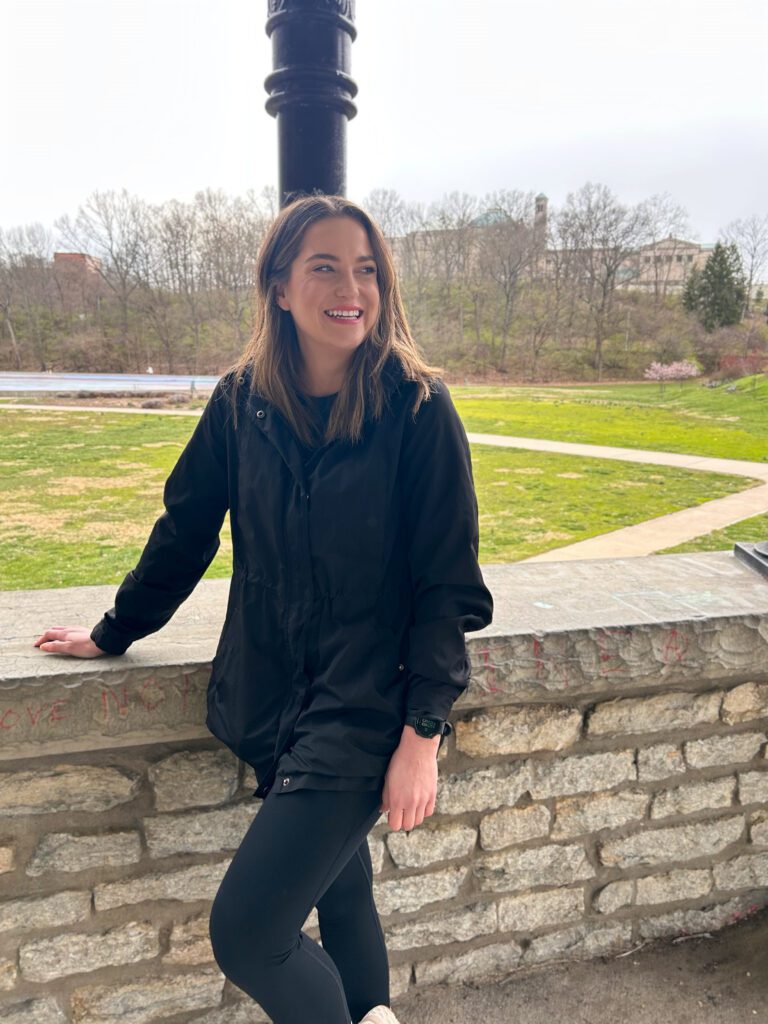 Tara Osborne, Cincy Girls Who Walk
Eden Park is my favorite! The Park is absolutely gorgeous, with winding walking paths that take you from Mirror Lake, past Krohn Conservatory, to the Twin Lakes. There are plenty of benches and grassy areas for a blanket with friends at sunset, and Cincy Girls Who Walk especially loves this area in the Spring to trek through the "hill" of Seasongood Pavilion to the Art Museum steps. I love that no matter the season, this Park has a way to make them each shine. Not only is it close to my Walnut Hills home, I especially have a connection to Eden Park because my mom walked here during her young professional days on her lunch break with her dog, and I love that I do the same with my dog now. It brings a sense of relaxation and reflection to me that is so needed with a busy schedule!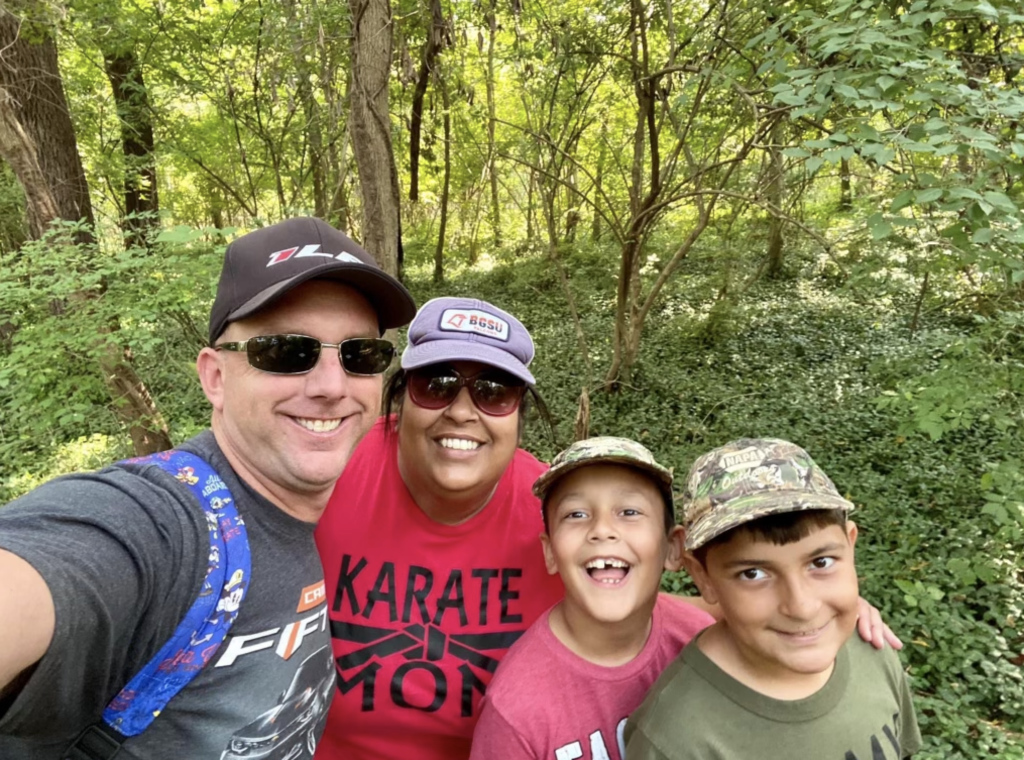 Lindsay Wilhelm, Director of Development for Cincinnati Parks Foundation
We love French Park. Hiking in the creek beds in the fall is our favorite thing to do.
Corrie Carswell, Cincinnati Parks Smale Park Riverfront Team
Every Park deserves "favorite" status, but mine happens to be Smale because it's "mine," where I spend my days working with some of the best co-workers you could ask for. I love every season, from tulips in the Spring to butterflies in the summer, fall's beautiful colors, and plowing snow in the winter. I love to watch the river and truly love seeing my gardens change throughout the year.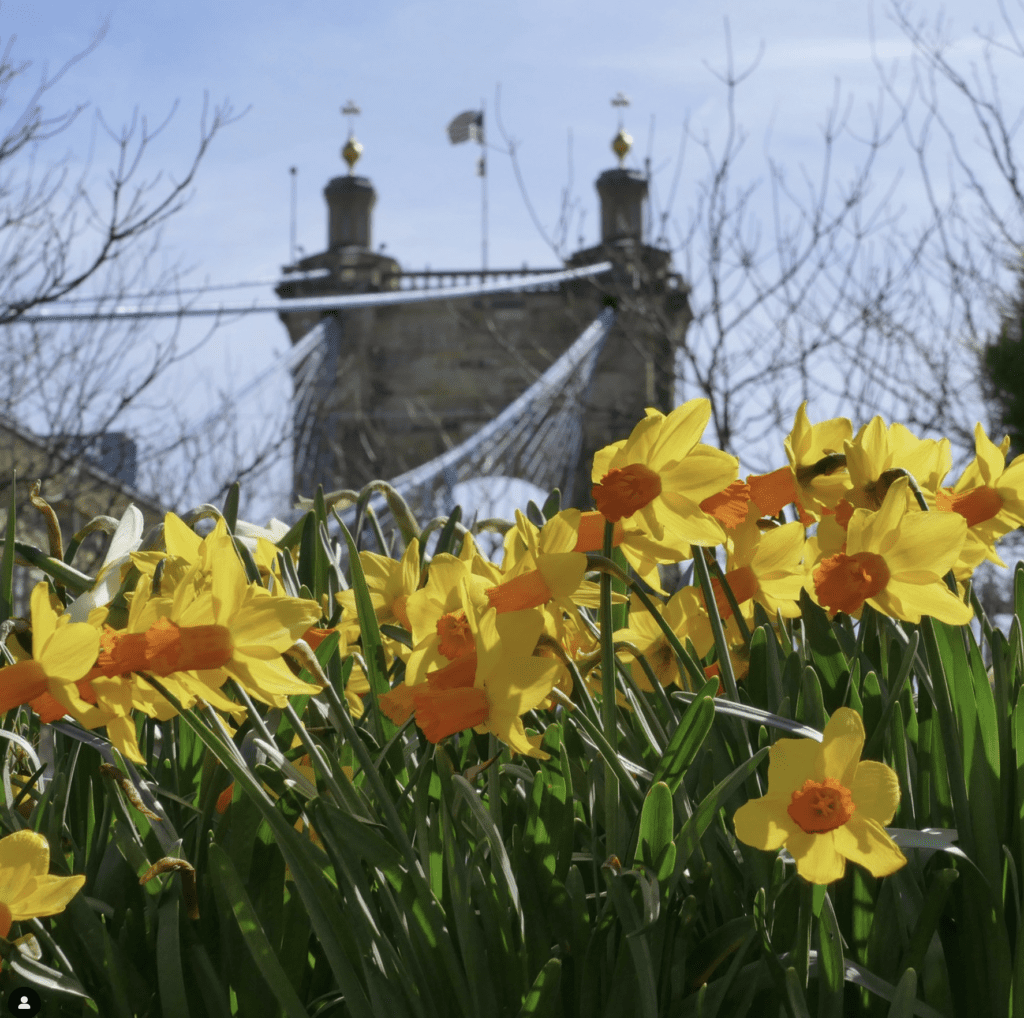 Edna Keown, Cincinnati Parks Foundation Board Member
Like so many residents of Cincinnati, I love Ault Park. It is near my house, and I walk there during the warmer months. It is a sure workout walking up the hill and around the Pavilion. I make the walk a part of my workout routine. There are places to sit, watch the greenery, attend morning yoga, and a perfect background for wedding parties. The view from Ault Park that overlooks Cincinnati is spectacular! Because Cincinnati has so many great parks, I could use the same description can be used for numerous parks around our wonderful city.
Milah Muhammad, Skate Downtown Cincy
The views, vibes, and sunshine are my favorite three things about the Sawyer Point Rink! They're the three things you're guaranteed to get while you're down there. I couldn't pick just one park because I have so many favorites. Still, my favorite thing about all of them is how every Spring, the air changes with the blooming of the greenery around us, and the city is transformed into this beautiful, picturesque place where you can't stay in anymore. It's almost as if the birds, flowers, and trees are calling you out of the house to fix your SAD (seasonal affect disorder), and the scent alone is enough to put a smile on your face.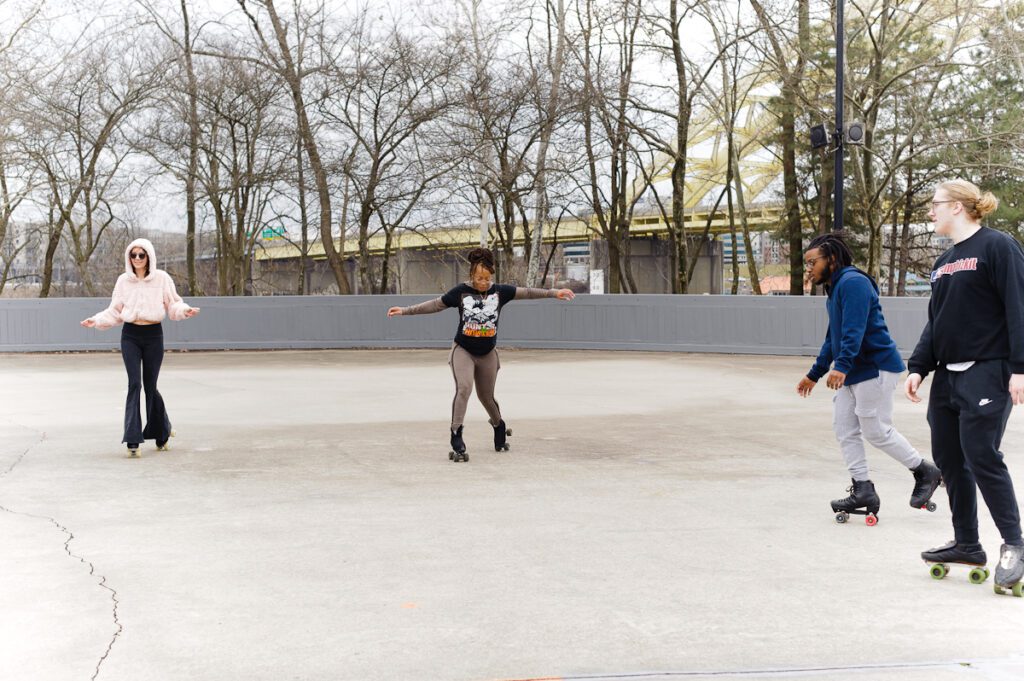 Emily Parker, Engagement Coordinator for Cincinnati Parks Foundation
What's not to love about French Park? The trail system! The romantic and iconic French House and its picnic-friendly vista! The serene stream that runs through its 275 acres! It's a relaxing respite and hidden gem in our system! Oui Oui!
Rhiannon Hoeweler, Hats Off Luncheon Co-Chair
I think my favorite has to be Eden Park. I love it for a million reasons, but here are a few:
It's walkable from my house, which I take advantage of frequently. It has amazing river and Cincinnati skyline views. Beautiful buildings – I love the tower. It's attached to Mt. Adams & the Art Museum. I love when folks ice skate on Mirror Lake in the winter. The cherry trees. Rock climbing on the big wall . Basketball in the Tom Jones Commons area. Picnics with so many folks bringing their family together in the Park. Tree grove dedicated to our past Presidents. Krohn Conservatory. There are a million hidden gems in the Park, too–something for everyone.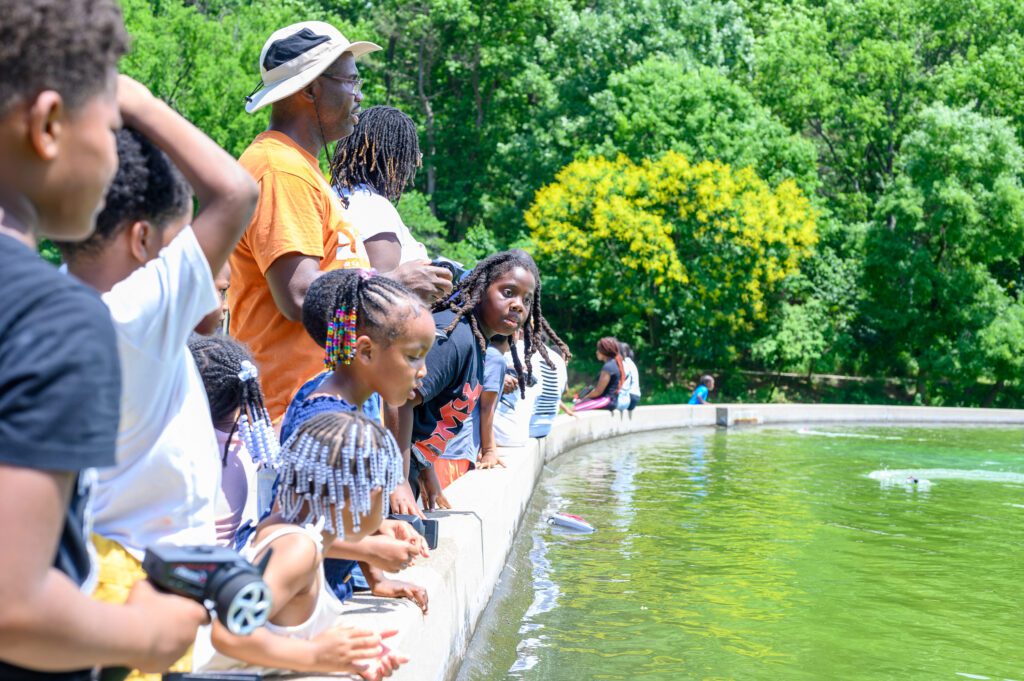 Morgan Rigaud, Skate Downtown Cincy
Sawyer Point is my favorite park because it's downtown's backyard: whether you're walking the tree-lined paths or skating at the rink, you can find peaceful places and play spaces there along the riverfront.
Colleen O'Connor, Program Coordinator for Cincinnati Parks Foundation
My favorite Park is Parker Woods. It holds special memories of walking through the Park with my first pregnancy and trying to induce labor, and now my kids love to go hiking and exploring in the woods. On one trip they found a turtle they named Shelly and now look for it each time they go back.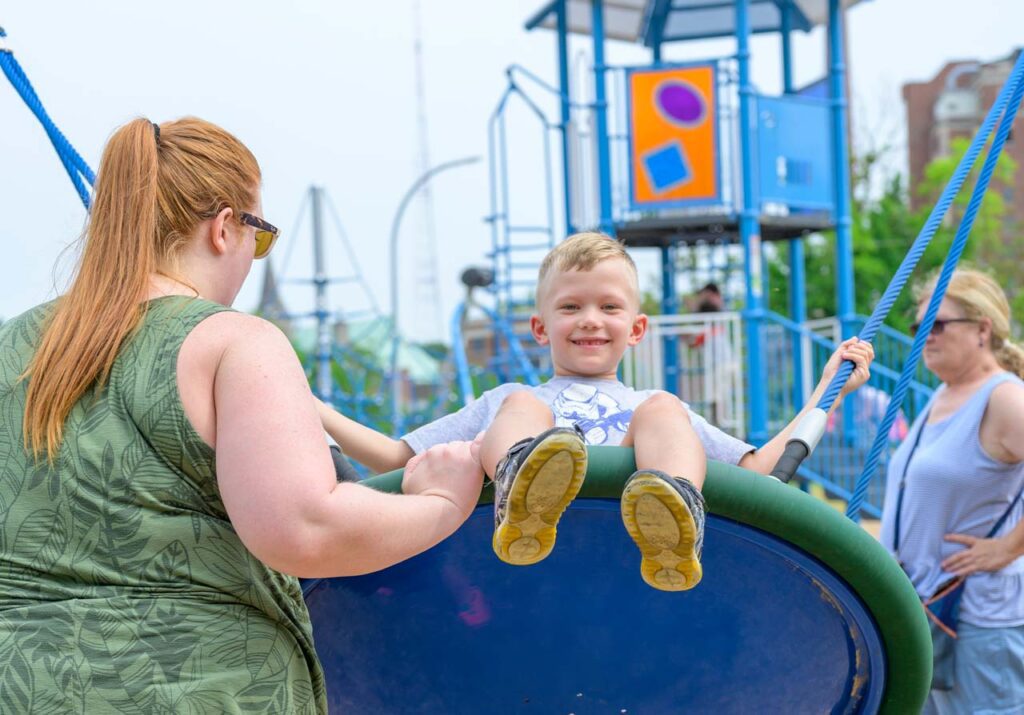 Jennifer Angeli, PT, DPT, Ph.D., Cincinnati Children's Hospital
Inwood because of the accessible PNC Grow Up Great Playground, which has opened up options for kids of all abilities to explore their parks in a whole new way. It's been a great park for several of our adaptive fitness and wellness programs, like be.well Martial Arts and be.well Green Gym.
So, take some time out of your busy schedule to visit a park and appreciate the beauty surrounding us right here in Cincinnati. Who knows, you may discover a new favorite spot for relaxation and rejuvenation. You may meet one of these inspiring women while you're there. Get to know them and learn more about the work they are doing in our community and in Cincinnati Parks.