A birthday is always something to celebrate! And 100 years is a special milestone. This month, we're celebrating the 100th birthday of Carol Ann Haile. The namesake of the carousel in the Anderson Pavilion at Smale Riverfront Park, Carol Ann, alongside her husband Ralph, had a tremendous love for Cincinnati, and their impact is everywhere in our city. Cincinnati Parks Foundation is thrilled to partner with the Haile Foundation and Carol Ann's Carousel at the Andrson Pavilion at Smale Riverfront Park to plan a very special weekend for a special person on May 20-21.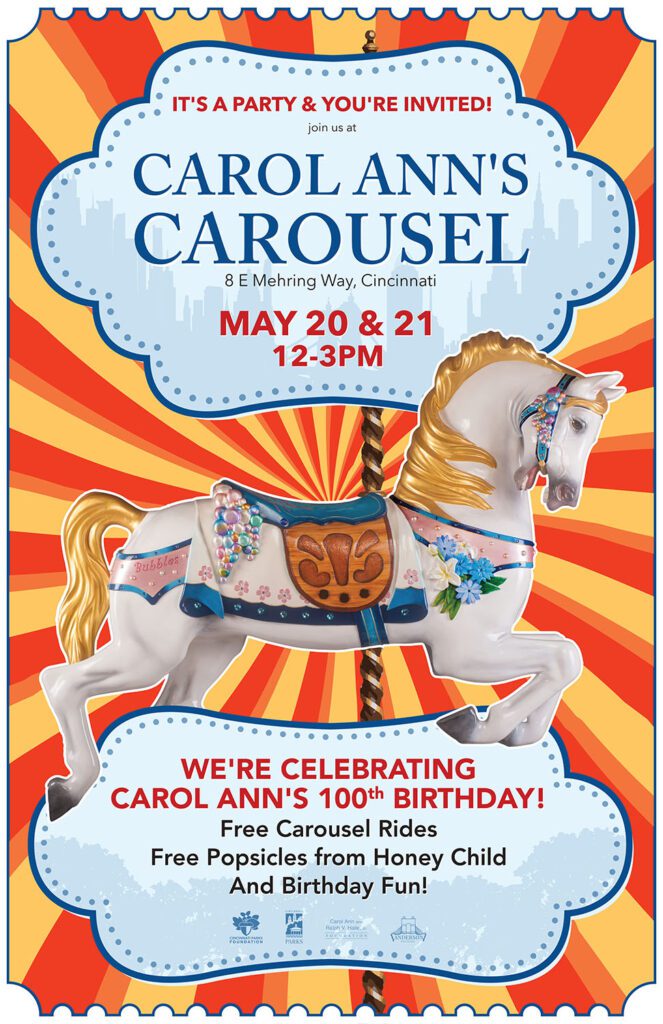 Here's how you can honor the legacy of Carol Ann Haile in recognition of her 100th birthday!
Head to Cincinnati. If you drive, park uptown! There's no need for a car because we have the Cincinnati Bell Connector. Did you know that a ride on the street car is FREE, thanks to the Haile Foundation? You can ride the street car for the entire 3.6-mile loop. So many sights you will pass exist thanks to Carol Ann and Ralph Haile.
Stop by Music Hall. Consider starting your day at Findlay Market or Washington Park. Snap a pic in front of this iconic Cincinnati building and know that the Hailes were part of the team to restore it to its former glory.
Check out Artswave murals. Whether traveling by foot, car, or streetcar, murals are everywhere! Jump on and off the streetcar to see them up close. Each mural tells its own story. You can take your self-guided mural tour, available here. Every selfie you take in front of an Artswave outdoor mural sends Carol a birthday wish. The Haile Foundation has helped support ArtsWave, in honor of Carol's involvement with arts groups.
Take a ride on Carol Ann's Carousel! You can end your day with a carousel ride. Originally opened in 2015, the carousel features 44 Cincinnati-themed characters with panels representing local parks and landmarks. Hop aboard your favorite carousel animal. Every spin around on the carousel is thanks to Carol.
Mark your calendars for Saturday, May 20, and Sunday, May 21, from noon-3 or a birthday celebration at Carol Ann's Carousel. Join us for:
A free carousel ride or two!
Popsicles from HoneyChild
A special poster featuring all of your favorite carousel animals
Party fun with face painters, jugglers, balloon artists and more
The carousel is open from 11-4 on both Saturday, 5/20, and Sunday, 5/21, and rides are free!
We hope you join us for the best birthday party of the century. Happy birthday, Carol Ann Haile–and thank you from all of us.