Cincinnati Parks Foundation and Arbor Day Foundation/Kimberly-Clark Team up to Host a Tree Planting Event in Roselawn
Local tree planting event aims to engage community members to take an active role in the overall health of their communities.
CINCINNATI, Ohio (May 18, 2023) – On May 25, Cincinnati Parks Foundation (CPF) will partner with Kimberly-Clark and the Arbor Day Foundation to plant 30 trees in the Roselawn Park in the Roselawn neighborhood of Cincinnati.
Cincinnati Parks Foundation is on a mission to help enhance and improve Cincinnati Parks in all regions of the city, ensuring that these urban parks remain green, beautiful, and accessible to everyone. CPF is working with the Arbor Day Foundation, the world's largest membership nonprofit dedicated to planting trees.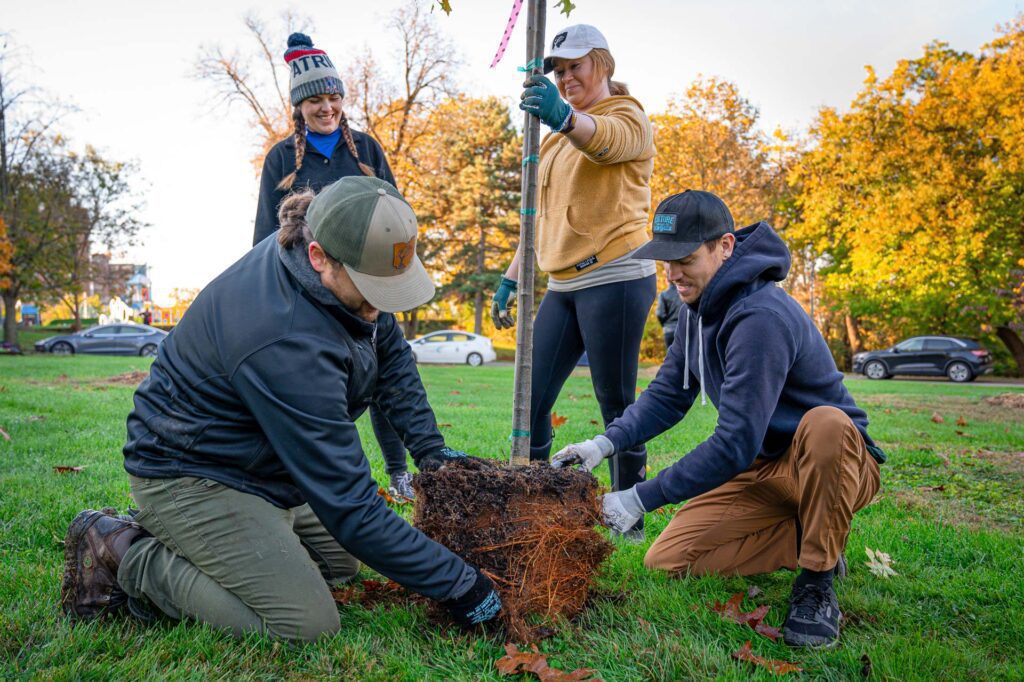 "Through the Green Cincinnati Plan, we are working with Cincinnati Parks, the city of Cincinnati, corporate partners, and volunteers to ensure we reach a 40% tree canopy in the city. We are dedicated to growing that canopy with a focus on historically under-resourced neighborhoods through initiatives like these that will help plant and maintain new trees and improve lives in those communities," said Jennifer Hafner-Spieser, executive director of Cincinnati Parks Foundation. "We're thrilled to be able to grow our impact in the Roselawn neighborhood, which has low tree canopy coverage and high heat island exposure. This day will make a difference for generations."
"One of the things the Arbor Day Foundation does best is to help local planting partners take meaningful action in their community to plant trees," said Dan Lambe, chief executive of the Arbor Day Foundation. "We plant trees to improve the lives of people around us. We're happy to help Cincinnati Parks Foundation foster a sense of community pride by planting trees."
Trees offer vast benefits for the community at large. Thriving urban forests bolster human health, from encouraging physical activity to reducing respiratory illnesses stemming from air pollution. Urban trees filter the air by removing pollution, improving a city's overall air quality. They also reduce runoff of sediment, pollutants, and organic matter into streams, improving our water quality. Trees have also been shown to reduce crime, lower stress levels, and develop community pride.
About Cincinnati Parks Foundation
The Cincinnati Parks Foundation, the philanthropic partner to Cincinnati Parks, is dedicated to preserving and enhancing Cincinnati's parks and greenspaces for all to enjoy. The Foundation works to raise funds, advocate for the parks, and support innovative programs that connect people to nature and promote a healthy and active lifestyle. To learn more about the projects and programs, please visit cincinnatiparksfoundation.org.
About the Arbor Day Foundation
Founded in 1972, the Arbor Day Foundation is the world's largest membership nonprofit organization dedicated to planting trees. With a focus in communities and forests of greatest need, the Foundation — alongside its more than 1 million members, supporters and valued partners — has helped to plant nearly 500 million trees in more than 50 countries. Guided by its mission to inspire people to plant, nurture and celebrate trees, the Arbor Day Foundation is committed to unlocking the power of trees to help solve critical issues facing people and the planet. Learn more about the impact of the Arbor Day Foundation at arborday.org.
###