STEREO '23 Festival of DJs to Premier on The ICON Festival Stage on August 12, 2023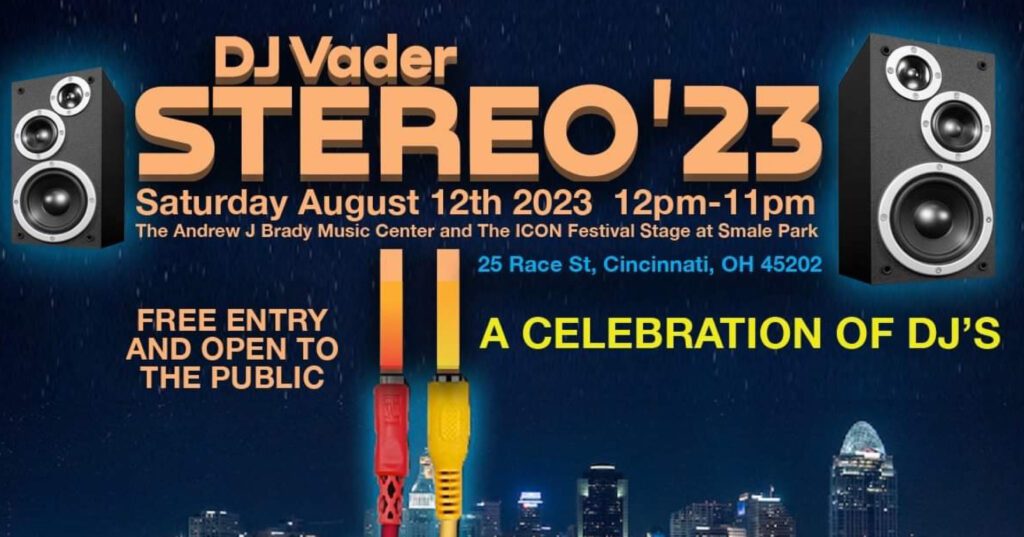 CINCINNATI, OHIO, July 18, 2023 – The records will spin on The ICON Festival Stage at Smale Park on Saturday, August 12, 2023 from noon until 11pm for the first annual DJ Festival. The Cincinnati Parks Foundation is proud to announce STEREO '23, a day-long festival at the John G. and Phyllis W. Smale Riverfront Park outdoor stage, celebrating both local and international DJs.
This festival will showcase turntable talent from different decades and backgrounds in conjunction with the 50th anniversary of Hip Hop. "There are many events this year in honor of Hip Hop's anniversary, but this is the first that highlights the DJs who have introduced and supported the genre as it has evolved over the decades," says event organizer, DJ and radio personality Kenyatta Smith. The event is presented in partnership with Cincinnati Parks Foundation, Cincinnati Parks, DJ Vader, and Music & Events Management, Inc. (MEMI).
STEREO '23 is made possible in part from a grant that will establish an endowment to support Black and Brown artists within the community. "This event is a pilot program, and the first of its kind in Cincinnati and on The ICON Festival Park stage. We plan to collaborate with community partners to develop it into an annual event series that recognizes different artists in this new outdoor venue," said Jennifer Hafner-Spieser, Executive Director of Cincinnati Parks Foundation.
Kenyatta Smith, who goes by DJ Vader, is developing a DJ line up for the event that includes favorite Cincinnati DJs as well as others from around the world. Doors open at 10:30 and the music begins at noon. This event is free and open to the public. 
For more information, please visit the Cincinnati Parks Foundation website or contact Jennifer Buchholz at [email protected].
About the Cincinnati Parks Foundation:
The Cincinnati Parks Foundation, the philanthropic partner to Cincinnati Parks, is dedicated to preserving and enhancing Cincinnati's parks and greenspaces for all to enjoy. The Foundation works to raise funds, advocate for the parks, and support innovative programs that connect people to nature and promote a healthy and active lifestyle. To learn more about the projects and programs, follow the @cincyparksfoundation on Instagram or visit cincinnatiparsfoundation.org