A letter from Skatedowntown Cincinnati founder Morgan Rigaud.
Let's reflect on what we've accomplished together during June: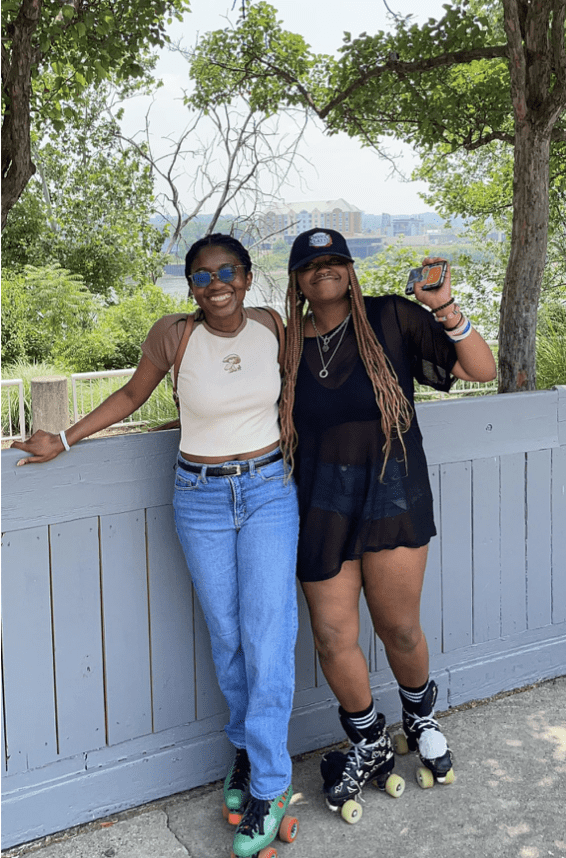 Our month started strong with our indoor WakeNSkate session at the Over the Rhine Cincinnati Recreation Centers, which was a ball and gave us good momentum going to the City to ask for support for the outdoor Sawyer Point Riverfront Rink.
When folks at the city advised us to come to them with a match, we raised $100K in 24 hours and rallied at City Hall with 38 roller skaters and riverfront rink advocates. Following our advocacy at City Hall, the City granted us a $100K match to the funds we raised for the Riverfront Rink. We are proud of our crew of passionate advocates, who council members recognized for our thoughtful approach to the process.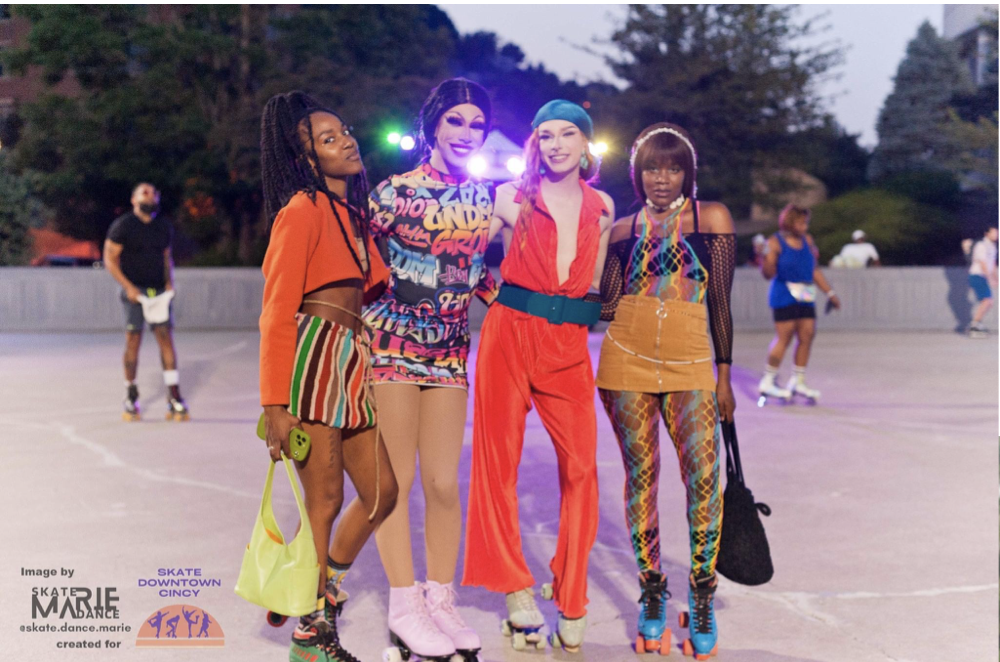 We hosted the first Drag Show on Wheels at the Riverfront Rink. Our PRIDE STRIDE event was the brainchild of roller skater Criss Dodge, a longtime staff member at Rosie's, who wanted to bring together the art of drag and her love of skating. The energy at the rink was tops, vibes were high, and performers Evelyn is Everything, and Crystal Cavalli brought down the house with incredible drag performances throughout the skate session. It was a night to remember!
Our programs were highlighted in an article, "City of Solidarity: Urban places can be models of social harmony in a divided world," published in "Case for Cities: Cities of Choice are Cities of Justice," a partnership between the University of Cincinnati's School of Planning at DAAP and Soapbox Media. You can read the full article here.
We hosted our first outdoor WakeNSkate at the Riverfront Rink with DJ Sneaks and DJ Jigg, who started the weekend on a high note with great music on the waterfront. Marie from Soaring Soul Wellness led Yoga for Skaters, and we had our highest yogi attendance yet.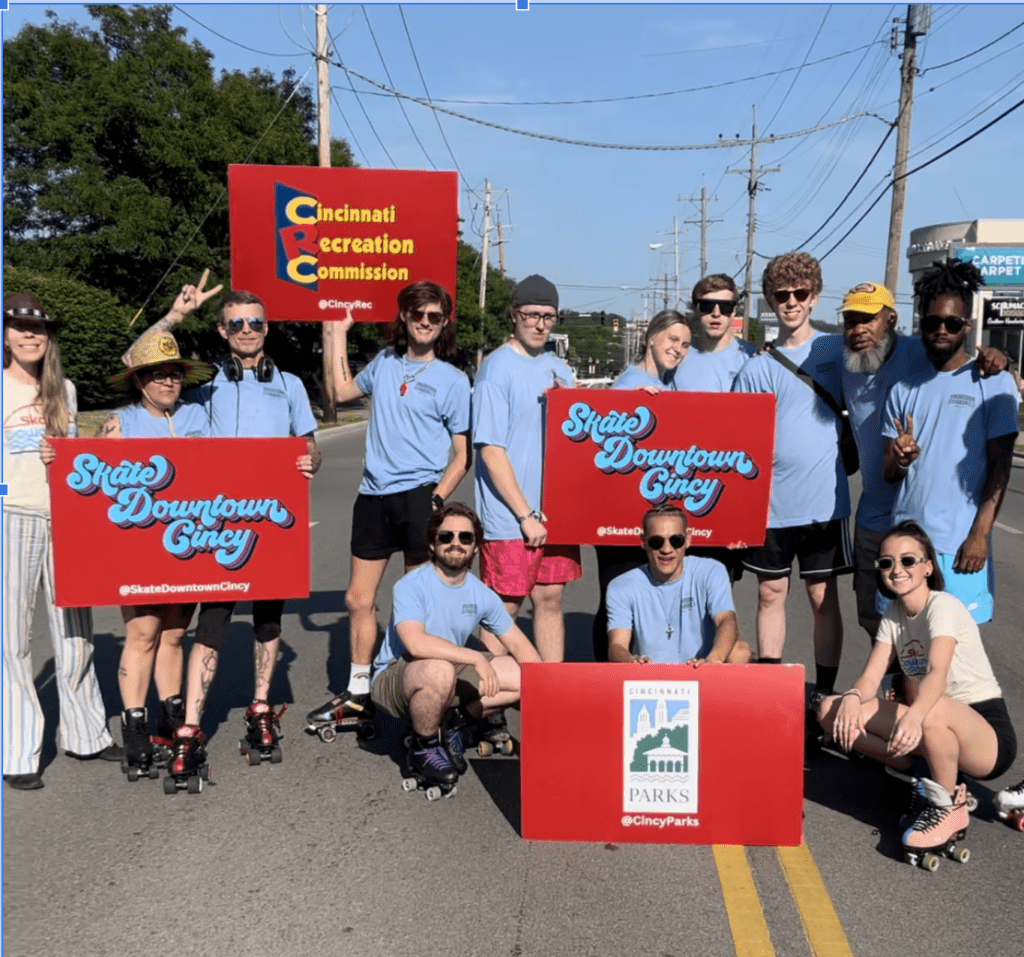 We skated alongside Dylan Morton, a professional skater from Price Hill who's skated with Usher, Pink, and Disney in Milford's Pioneer Days parade, where Dylan was honored as the Parade Grand Marshall, to raise awareness for the two downtown rinks.
Many roller skaters spoke with reporter Zurie Pope for an article in the Cincinnati Enquirer on the Riverfront Rink campaign: "'The great equalizer.' On Cincinnati's riverfront, a forgotten roller rink is reborn". You can read the full article here.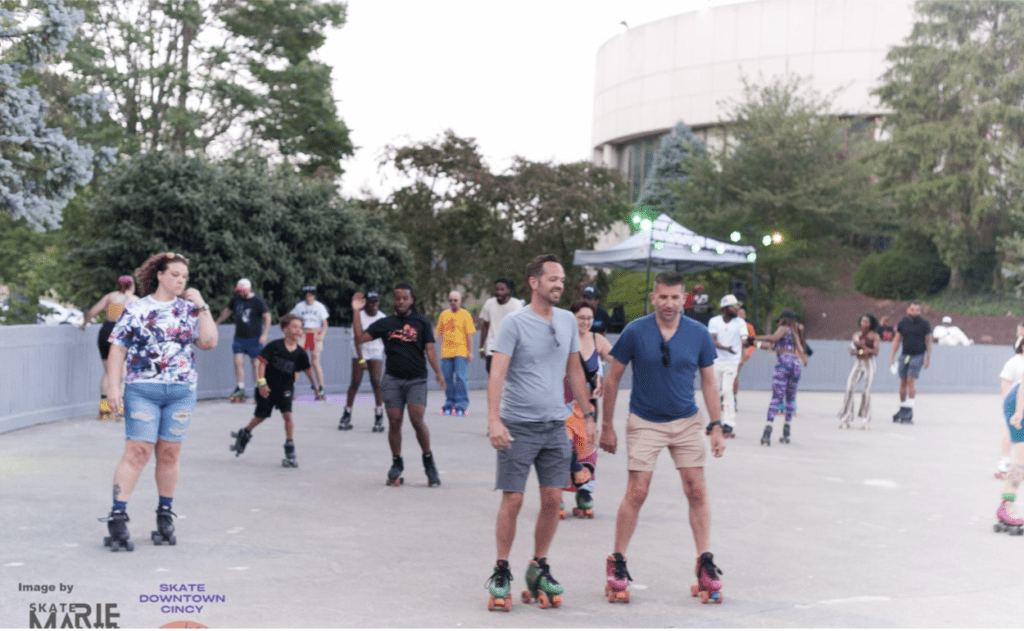 We also supported other community groups in June. We hosted an afterparty at the outdoor rink with DJ Stride for Go Skate Day, which was organized by Social Push Cincy, Cincinnati Skate Collective, and Cincinnati Skate Park Project. We promoted and provided DJ support for Pride Rollout organized by Cincinnati Skate Collective and Cincy Roller Girls. Finally, we organized a skate crew for the CSO's Brady Block Party in Smale Riverfront Park with Cincy Nice.
We started the month with $15K in the riverfront rink refurbishment fund and ended with $200K. We offered 100% FREE programs and rental skates thanks to our partners at Cincinnati Recreation Commission and our dedicated team of skaters who transported the skates and ran the rental counter.
This is only the beginning! Join us at the rinks in July, where we're hosting more free programs led by local skaters:
July 15, 9 am-1 pm: Neon Pajama Jam hosted by No Effxrt with DJ Sneaks and DJ Jigg at the Riverfront Rink
July 15, 4-7 pm: OTR Summer Kid Skate at OTR CRC, also known as The Hub
July 22, 7-10 pm: 90s Skate hosted by Cincy SociaLights with DJ Sneaks and DJ Jigg at the Riverfront Rink
Click here to learn more about our programs at the Sawyer Point Riverfront Rink and to get involved. We hope to see you at the rink!