Tips to help you intentionally incorporate nature as medicine into your routine 
Did you know that according to the Environmental Protection Agency, Americans spend 93% of their time indoors? This is concerning because spending time in nature has been shown to have many health benefits. Being in nature can help reduce anxiety, lower blood pressure, enhance immune system function, and boost self-esteem and mood.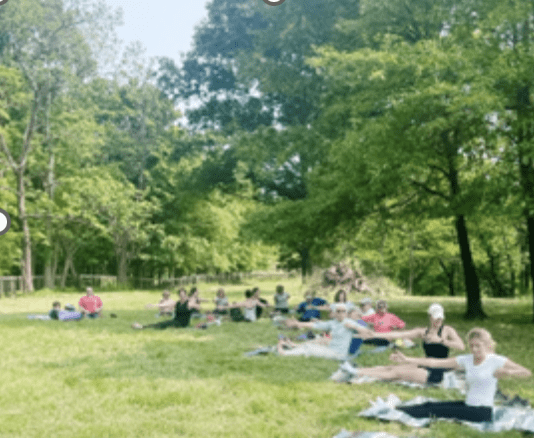 There are numerous studies that support the healing power of nature. A study of 20,000 people found that those who spend at least 120 minutes per week in nature, whether in a local park or other natural environment, were more likely to report better health and well-being. 
The World Health Organization recently released a report called Green and Blue Spaces and Mental Health, which shows that time in nature, including urban areas, improves moods, mindsets, and mental health. Furthermore, research suggests that exposure to forests, parks, gardens, or coastlines can help mitigate the psychological impact of climate change, promote physical activity, and provide opportunities for social interaction. 
"Prioritizing your wellness by spending time in Nature promotes physical activity, engages your senses, encourages social interaction, and enhances well-being, all key elements of keeping you healthy. Harnessing the healing power of Nature is within your reach: simply step outside and reap its benefits." Mladen Golubic, MD, PhD, Medical Director, Osher Center for Integrative Health 
Intentionally incorporating nature into your day will help you reap the benefits, and it doesn't have to be complicated. Here are some simple tips to get you started:
Schedule regular "nature breaks" throughout your day, even for 10 minutes at a time.
Bring greenery or images of natural spaces into your home and office, both of which have been shown to lower stress according to studies.
Try "green exercise" – moving your workout outdoors provides benefits. A recent study found that a short, leafy stroll improves working memory and concentration substantially more than completing the same brief walk inside.
Turn a regular meeting into a walking meeting outdoors.
Eat a meal outside in nature (turn any meal into a fun picnic).
Try a no-cost Cincinnati Parks Foundation wellness program such as yoga, forest bathing, or meditation.
Join the Osher Center for Integrative Health and the Cincinnati Parks Foundation for An Evening of Wellness in Nature at Ault Park on Thursday, September 7 from 4-7 p.m. This evening wellness retreat combines physical activity, social interaction, and exposure to nature and sunlight to help you harness the healing power of nature and invest in your well-being through a range of experiential sessions led by Osher Center practitioners including yoga, tai chi, mindful walking, and sound immersion. Register Now: An Evening of Wellness in Nature at Ault Park 
The Osher Center for Integrative Health is changing health outcomes in Cincinnati
The Osher Center for Integrative Health is changing health outcomes in Cincinnati by empowering patients take control of their health through preventative, integrative therapies at UC Health, training students and healthcare professionals at the UC College of Medicine, and engaging the community through lifestyle medicine and integrative health programs and events. Learn more about the Osher Center for Integrative Health.