The Women's Committee of Cincinnati Parks is a dedicated group of nearly 900 park advocates. Their membership in the Women's Committee supports Cincinnati Parks through advocacy and fundraising. On June 2, 2022, members were invited to attend a members-only "Butterflies After Dark" viewing of the Krohn Conservatory's "Butterflies of the Nile" show.
Over the course of the evening, members mingled amongst fluttering butterflies under the Conservatory's painted glass. They were serenaded by old-timey jazz by musician Matt Tolentino, and enjoyed delicious food and drink. Outside the Conservatory, guests enjoyed making a butterfly-attracting craft and viewing a collection of sculptures by artist Dominic Benhura.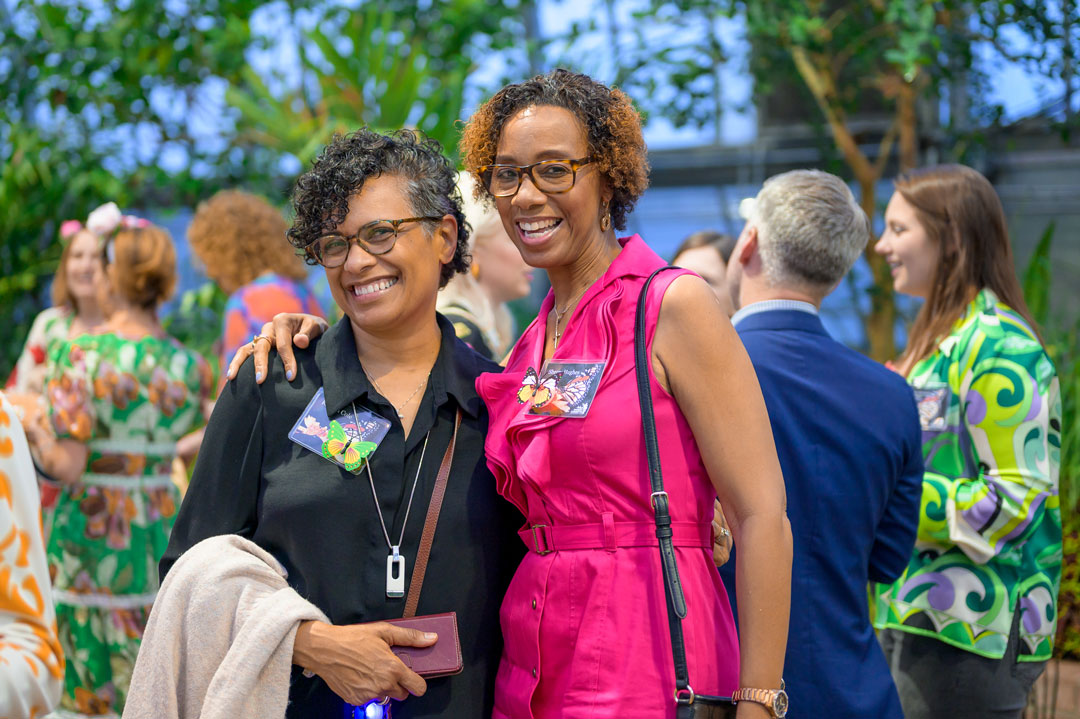 Membership in The Women's Committee
Inspired by the women who banded together in the 1980's to resurrect New York City's Central Park, Helen Heekin and Debbie Oliver formed this Women's Committee in 2006. Known then as "The Women's Committee of Smale Riverfront Park," they kicked off the fundraising that transformed a neglected, gravel lot to the kaleidoscopic oasis the park is today. To make a deeper impact in the community, in 2018 the committee shifted focus and became "The Women's Committee of Cincinnati Parks," with the mission of supporting neighborhood parks across the city. Dollars raised through memberships and the annual Hats Off Luncheon support the replacement of outdated playgrounds, restoring hiking trails, planting thousands of trees, and expanding accessibility for all.
Membership includes invitations to special events like "Butterflies After Dark" but there are no mandatory obligations of your time. Contributions are 100% tax-deductible and include engraved name recognition within Smale Riverfront Park upon completion of the Smale Expansion. Membership in The Women's Committee of Cincinnati Parks is open to all individuals and can be purchased for yourself or in the name of a loved one.