We have a clear, 2020 vision with Cincinnati Parks and a Board of Directors who are dedicated to our success! With their leadership we will be able to renovate greenspaces, restore trails, plant hundreds of trees, replace playgrounds, erect new public art and more this year.
Our 40-member volunteer Board consists of diverse community leaders who share their talents, professional expertise and passion to improve the City of Cincinnati's most democratic spaces, our parks.
2020 brings with it some changes to our Board of Directors Executive Committee. On behalf of our team, we wish to thank our outgoing Board President, Cathy Caldemeyer for 12 years of dedication to the Cincinnati Parks Foundation. Cathy devoted herself to ensuring the beauty of the Cincinnati Park system. We welcome Donald Mellott as our new President and are excited for his leadership. Other changes on our Executive Committee include Daniel Vogelpohl as Vice President, Thomas Hankinson as Treasurer and Fay Dupuis as Secretary.
Ten new members have been added to our Board of Directors this year. Thank you for joining the Cincinnati Parks Foundation and working hard to protect and improve our city's parks!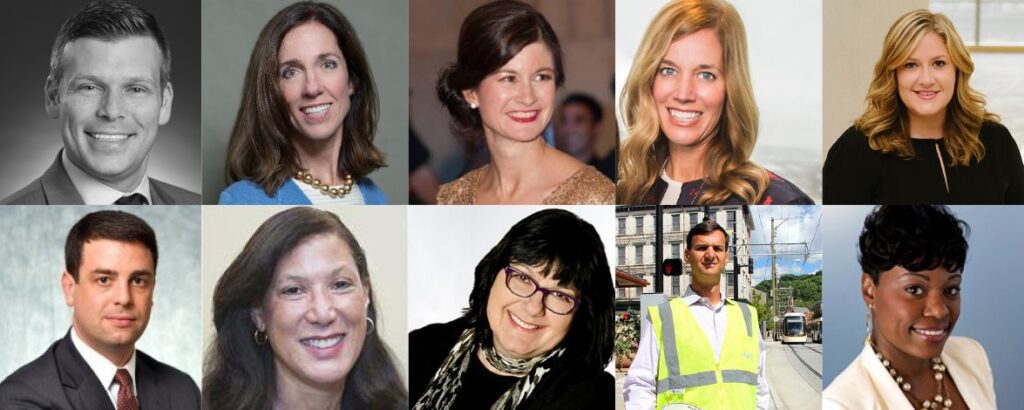 (From top left to bottom right)
Jon Bresnen- Senior Wealth Advisor at Mariner Wealth Advisors
Kelly Brown- Former Global Brand Manager at Procter & Gamble
Jennifer Buchholz- Communications Consultant at the English Contractor
Carrie Carothers- CPF Volunteer and past Hats Off Luncheon Co-Chair
Lisa Diedrichs- Partner at Graydon
Kevin Hoskins- Partner at DBL Law
Jan-Michele Kearney- Publisher at Cincinnati Herald
Kelly Kolar- President of Kolar Design
Mike Prus- Vice President of Prus Construction
Shelia Simmons- VP Client Relations Manager at 5/3 Bank