Story by Cincinnati Parks
Cincinnati came in 4th for parks in a national ranking of the largest 100 US cities released today. The annual ranking of park access, quality and equity was compiled by the Trust for Public Land whose mission is to "create parks and protect land for people, ensuring healthy, livable communities for generations to come."
The comprehensive, highly technical evaluation compared park lands in cities on 5 factors: access, acreage, investment amenities and race and equity in access to greenspace by race and income. Cincinnati scored well above average when it comes to park access with 88% of residents living within a half mile of a park.
Cincinnati Mayor Aftab Pureval said, "We take great pride in our parks and feel it is vital they remain a safe, equitable space for families and residents to utilize and enjoy. Continual improvement to these public spaces remains a priority, but this national ranking makes clear that Cincinnati cares deeply about the role parks have in contributing to happier, healthier lives for all."
"Here in Cincinnati, we know how special our parks are to the city and the thousands who enjoy them every day. On behalf of the entire Board of Park Commissioners, it is fantastic to have our beliefs validated by a national organization who specializes in these things and really drills down the data," commented Jim Goetz, President, Cincinnati Board of Park Commissioners. He continued, "While we are thrilled with this ranking, we're not satisfied. Another benefit we are excited about is the extensive, in-depth analysis we received from the Trust. We will use this information to work with our partners to identify ways to improve as an organization for all those we serve."
Goetz is referencing The Trust for Public Lands Cincinnati score for equity in park access. Here, it was found that Cincinnati residents living in neighborhoods of color have 4% less nearby park space than those in white neighborhoods. Though the gap is much greater for low-income residents who have access to 23% less park space than those in higher income areas. The Board of Park Commissioners will work with City leadership and partner organizations to better understand the factors contributing to these gaps and develop remedies and identify opportunities to create more greenspace in these areas.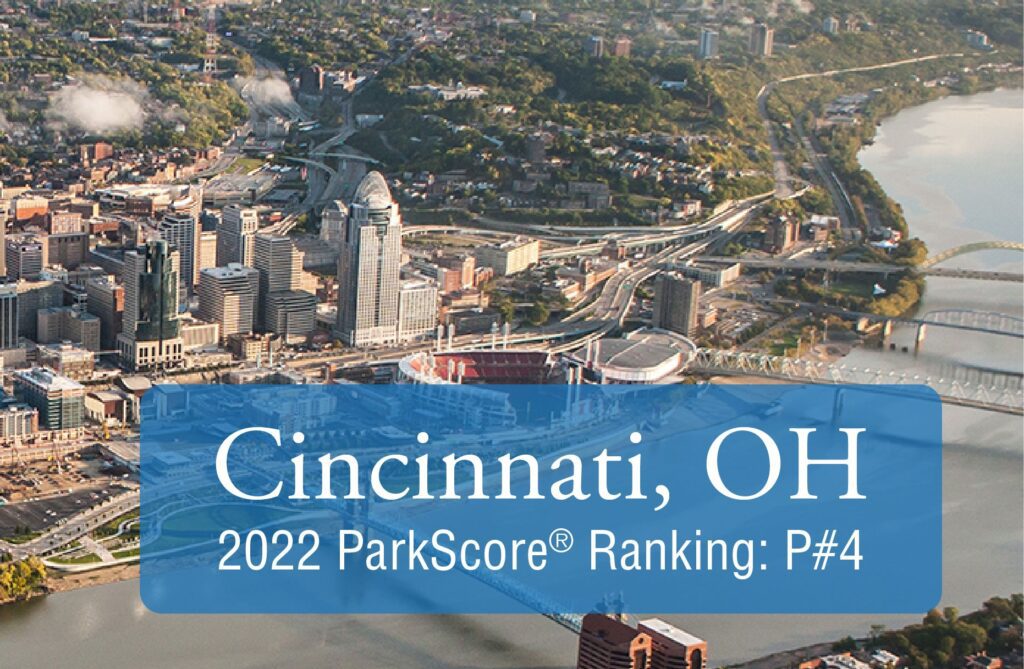 A big part of the success of Cincinnati Parks is due to the tremendous work of thousands of volunteers and community and business partners. Jennifer Spieser who serves as Executive Director of the Cincinnati Parks Foundation (the official philanthropic partner for Cincinnati Parks), added, "Cincinnati Parks' annual ranking as a top urban park system is a testament to our beautiful city, which has been planned so masterfully around its parks, recreation, schools, and greenspaces throughout all 52 neighborhoods. We celebrate today with the dedicated members of the Cincinnati Park Board, who work tirelessly each day to maintain this beautiful and historic park system."
Parks have a long and distinguished tradition in Cincinnati. The city is fortunate to have a robust and thriving system of parks dating back to the 1860's with the development of Washington, Hopkins, Eden and Piatt Parks. In 1907, George Kessler, Landscape Architect, created Cincinnati's first park master plan to lift the city out of the dirty environment created by the Industrial Revolution. As a result, many have described Cincinnati as being created as a city within a park.
Today, Cincinnati's Parks consist of 5,000-plus acres of city parklands including 5 regional parks, 70 neighborhood parks, 34 natural areas, 6 neighborhood nature centers, 30 sites managed by the Cincinnati Recreation Commission, 5 parkways, 16 scenic overlooks, 2 arboretums and 65 miles of hiking and bridle trails.
The review included parks and greenspaces in Cincinnati managed by the Cincinnati Park Board as well as the Cincinnati Recreation Commission, Cincinnati Public Schools and the Hillside Trust.
Overall Trust for Public Land ranking description