Doors Open: 10:30
Music Begins: Noon until 11:00 PM
Free and Open to the Public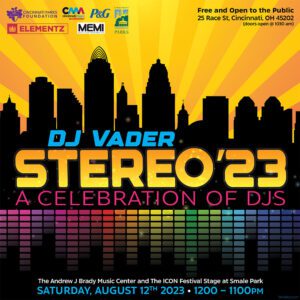 The records will spin on The ICON Festival Stage at Smale Park on Saturday, August 12, 2023 from noon until 11pm for the first annual DJ Festival. The Cincinnati Parks Foundation is proud to announce STEREO '23, a day-long festival at the John G. and Phyllis W. Smale Riverfront Park outdoor stage, celebrating both local and international DJs.
This festival will showcase turntable talent from different decades and backgrounds in conjunction with the 50th anniversary of Hip Hop. The event is in partnership with DJ Vader, Cincinnati Parks, MEMI, Cincinnati Music Accelerator, and Elementz.
STEREO DJ Line Up
DJ Vader  |  DJ Guy Wes  |  DJ Stank  |  DJ Mic Drop  |  DJ Master Fresh  |  DJ Bandcamp
DJ Diamond  |  DJ Xanati  |  DJ Apryl Reign  |  DJ Queen Celine  |  DJ Trub  |  DJ NoahIMean?
DJ Ken Masters  |  DJ Kombat  |  DJ Brian Guinness  |  DJ Pillo  |  DJ Prymetime
DJ Biz  |  DJ Butch Gibson  |  DJ Stone  |  DJ Riq  |  DJ Speed 
This event is a pilot program, and the first of its kind both in Cincinnati and on the ICON stage. We plan to collaborate with community partners to develop it into an annual event series that recognizes different artists in this new outdoor venue.