Grab your roller skates and head downtown for the Sunset Skate at Sawyer Point series! You'll enjoy the waterfront breeze as you skate Cincinnati's largest roller rink. Meet new friends, exercise, and enjoy a beer or ice cream while you watch the sun go down.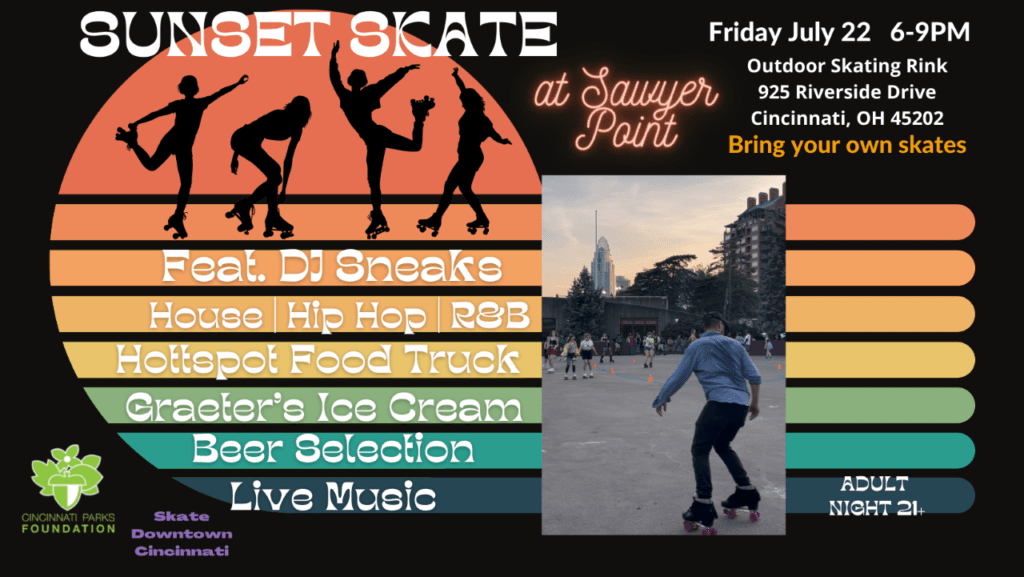 The Sunset Skate at Sawyer Point series is bringing roller skaters together with DJs, drinks, food trucks, pickleball, and live bands in conjunction with the Amped Up! Series at Sawyer Point. The first skate party will be on July 22 from 6-9pm with DJ Sneaks. Skate before you head to Cincinnati Music Festival or the free concert on Fountain Square later in the evening.
This is the first skate program in the series presented by the Cincinnati Parks Foundation and Skate Downtown Cincinnati, a resident-led initiative to raise awareness and resources for public skating spaces.
Sunset Skate at Sawyer Point Series:
Adult skate 21+
Friday, July 22 (6-9pm)
Girls Night Out Ages 8-18, Hosted by the Cincinnati Junior Roller Girls
Saturday, Aug 13 (6-9pm)
Adult skate 21+
Friday, Sept 9 (6-9pm)
Adult skate 21+
Saturday, Oct 8 (5-8pm)
SkateFest at Sawyer Point, Day Party – All ages
Friday & Saturday, Oct 14 & 15 
Bring your own skates (BYOS) and protective gear.
Location: Outdoor Skating Rink behind Montgomery Inn Boathouse, 925 Riverside Drive, Cincinnati, OH 45202
Parking: Sawyer Point lot ($5), multiple lots beneath the interstate off Eggleston, & street parking on Riverside Drive.
About the Sawyer Point Skating Rink
The rink opened in 1988 with an Olympic skating performance during the Bicentennial Celebration. It is one of the largest waterfront skating rinks in the United States with four times the skatable surface of a regulation rink. The outdoor rink concessions, skate rental, and restrooms operated until 2005.
The outdoor skating rink has seen a steep increase in activity over the past two years. Skaters bring their own skates to the park for fitness, meetups, and roller derby practice – both Cincinnati Roller Girls and Cincinnati Junior Roller Girls hold practice at the outdoor rink.