January is a time for resolutions and pledges to new habits in the new year. It's no secret that many will flock to the gym floor and crowd fitness classes as part of a commitment to improved health as we turn the calendar page to 2023. According to a CBS News poll, the most popular resolutions for the new year typically involve improving health and physical fitness. However, a new poll from Forbes Health found that more and more people are resolving to focus on their mental health, with more than half of respondents between the ages of 26 and 41 looking to improve their mental health in 2023. Although there are numerous resources for both physical and mental health, it's likely you have access to something that can help you fulfill those new year's resolutions within steps of your front door–a Cincinnati Park!
The gym is always there, but outdoor exercise can have some additional health benefits that you might not expect. Getting a workout in the great outdoors gives you all the benefits of a gym or studio workout–improving strength, cardiovascular health, flexibility, and endurance, plus a lot more.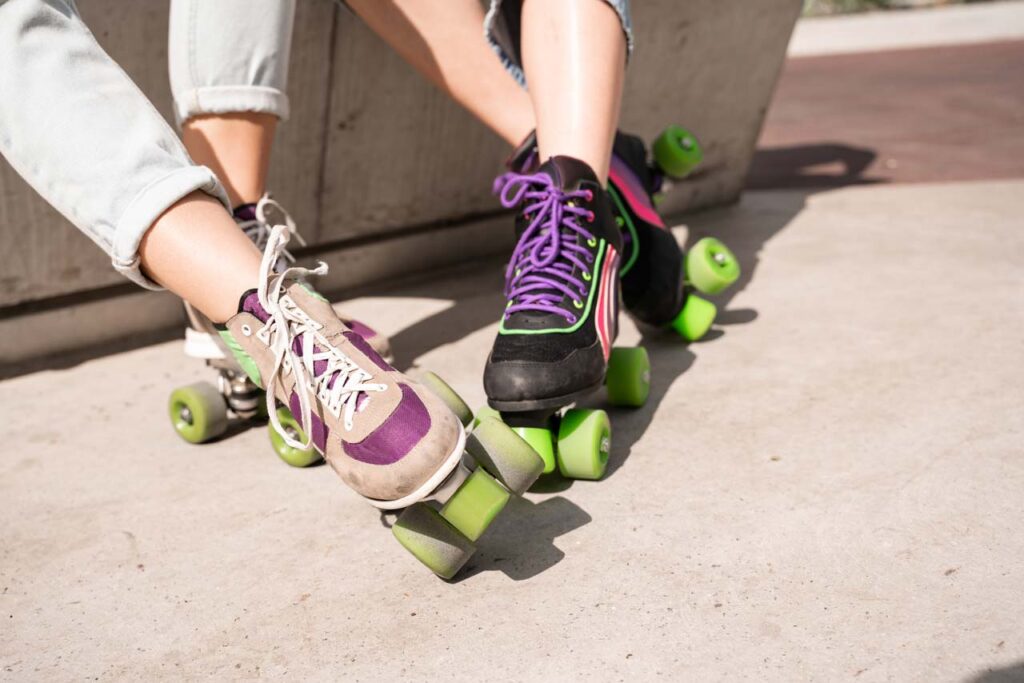 A Cincinnati Park makes for a great backdrop for your next workout–whether you're just beginning or just looking for a new routine in the new year. According to a study by the Trust for Public Land, 88% of Cincinnatians live within a 10-minute walk of a park. Having a convenient and easily-accessible location to exercise makes it that much easier to keep those fitness resolutions in the new year.
Variety is the spice of life and the beauty of starting a new fitness routine in a Cincinnati Park is that there are so many opportunities. Our parks have over 65 miles of hiking trails. If you're looking for accountability and social connections while you exercise, there's still time to join the Cincinnati Parks Foundation Friluftsliv Challenge, presented by The Women's Committee of Cincinnati Parks, which provides weekly hikes and an opportunity for a group hike every Saturday. Groups like Cincinnati Hikes and Cincy Girls Who Walk provide other great opportunities to walk or hike with a friend all over our city. Our accessible hiking program, Everybody In Cincy Parks, a partnership with Luke 5 Adventures, provides a hiking experience for those who would not otherwise be physically able to do so. Consider volunteering with this program as a sherpa and you can get a workout while giving back. Pickleball at Sawyer Point provides a lot of opportunities to learn a new sport. You can also check out the many neighborhood parks in Cincinnati and you'll be amazed at the number of opportunities to exercise in Cincinnati Parks. Burnet Woods, for example, offers a Saturday yoga class at 10 am and 11 am. Join one of our programs, an existing community program, or see what you can find on your own. Check out a new group, Solo in Cincy, that is seeking out opportunities for activities that you can do on your own that can be great for wellness seekers.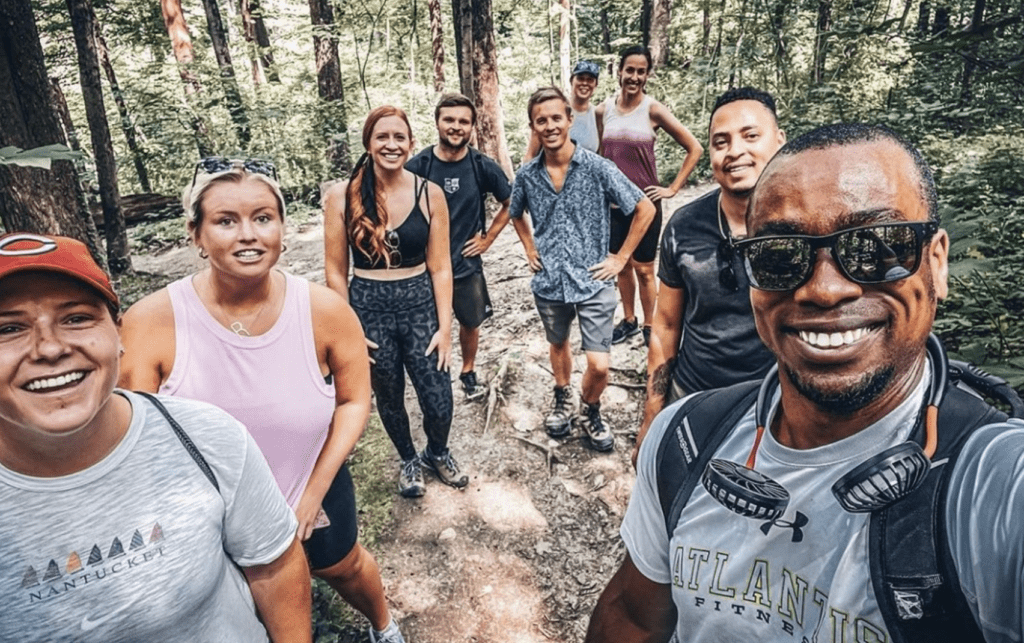 The most important part of exercise, according to Dr. Mindy Hastie, a recently retired internal medicine physician with Mercy Health and a Board Member of the Cincinnati Parks Foundation, is to just do it. "10 to 30 minutes of exercise can have a huge impact on your health," she says. Dr. Hastie recommends starting out simply with a walk, to kick off a new exercise routine. "Even just 10 minutes of exercise can lower blood pressure, blood sugar, and cholesterol while improving cognitive functioning, sleep, and lowering anxiety and depression. Plus when you're in a Cincinnati Park, you get fresh air, sunlight, and vitamin D," she explains. Nature has a calming effect, Dr. Hastie reminds us, which can boost the effects of exercise endorphins.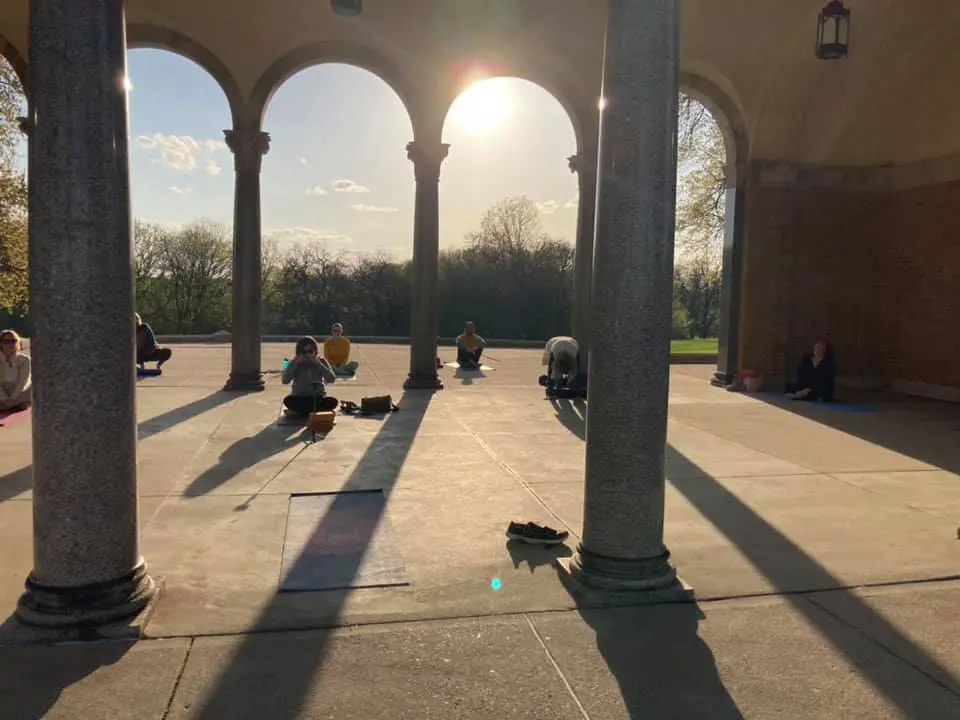 Nature can have a healing effect on the body, mind, and soul. A stroll through a park can not only work out the body a bit but can also soothe the mind. Research continues to emphasize that time in the outdoors can lower stress and improve attention and mood. The sights and the sounds found in nature have a calming effect, plus the sunshine provides a great break from the screens that are constantly getting our attention. A trip to a Cincinnati Park gives a break from the daily routine that will reap many benefits.
"As a therapist who works with eating disorders, I often advocate shifting from a position of movement for calorie burning to movement for mindfulness, grounding, and reconnection with the body, nature, and the world around us," says Licensed Professional Clinical Counselor-Supervisor and Certified Eating Disorder Specialist Meredith Thomas, the founder of Creekside Therapy Center LLC. "Being intentional about taking in our surroundings and getting outside of our thoughts can drastically reduce the level of stress we experience or the amount of time we spend boxing ourselves in or wall ourselves off. Touching the bark on a tree, feeling the grass on our feet, noticing the color of the sky or the shape of the clouds, while subsequently drawing attention to our internal experience can bring us back to our center and allow us to feel rejuvenated," she says.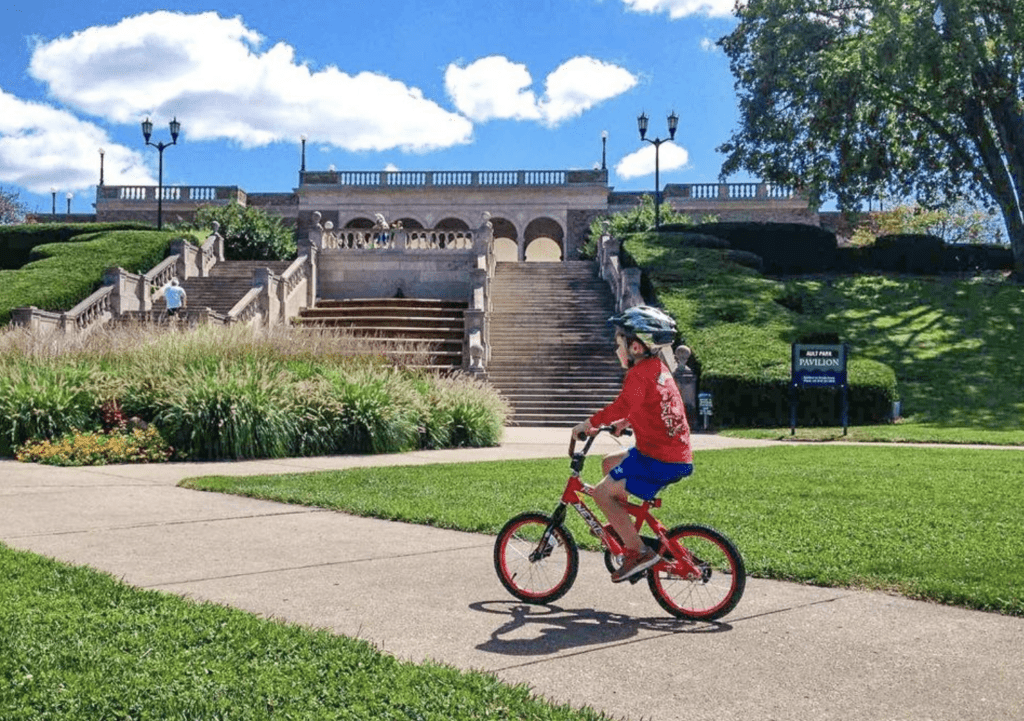 It's not just the natural setting. Time in Cincinnati Parks can help increase your social connections, which have been linked to improved mental and physical health. So many of us are spending more time working from home, which has its benefits but can limit our everyday in-person interactions. A park provides an opportunity to gather with friends with a simple walk or even a picnic. Or join an existing group that uses our parks as a place to meet. Cincinnati Parks Foundation programming provides opportunities to explore pickleball, hiking, yoga, roller skating–and soon mountain biking, too. If wellness is your goal in 2023, Cincinnati Parks are the place to find it.
Cincinnati Parks contain more than trees, flowers, birds, and squirrels. They are a place for all of us. If you're seeking wellness this year, a Cincinnati Park is a great place to start. Our parks are always free and open to anyone. So lace up your shoes and get outside. We can't wait to see you achieve your health and wellness goals in 2023.
Be sure to follow us on Instagram for more ways you can find health in wellness in Cincinnati Parks in 2023.