News alert: it's going to be a hot one, with temps topping over 90 degrees Fahrenheit. Ok, you probably already knew that, but did you know that parks help make the city cooler (literally)?
During heat waves, built infrastructure like roads, parking lots, and dark shingles help trap heat in urban areas, known as the heat island effect. Urban areas end up being much hotter than their rural neighbors. Research from the EPA shows that heat islands in urban areas are "about 1–7°F higher than temperatures in outlying areas and nighttime temperatures about 2–5°F higher. " These higher temperatures can be more than uncomfortable, they can be life threatening for those without air conditioning or other ways to stay cool.
That's where parks come in! Living near or recreating in Cincinnati Parks can help you beat the heat this summer.
Parks in urban areas help to cool the air temperature
Trees in the parks moderate artificially higher temperatures in urban areas. In fact, climate experts believe that tree canopy cover is the most effective natural solution to urban heat islands! Trees cool the air by providing shade and through evapotranspiration (trees evaporate water into the air, similar to sweat evaporating from skin).
Basically, a park greenspace will stay much cooler in the heat of the day than a gravel parking lot. Smale Riverfront Park is a great example of what parks can do to fight heat island effect! The initial phase of the Park transformed parking lots and industrial buildings into an oasis of trees, gardens, and fountains. Likewise, the recent Smale Expansion revitalized pavement into a beautiful event lawn with gardens, pergolas, and tree groves, helping to cool the densely packed downtown area that it neighbors.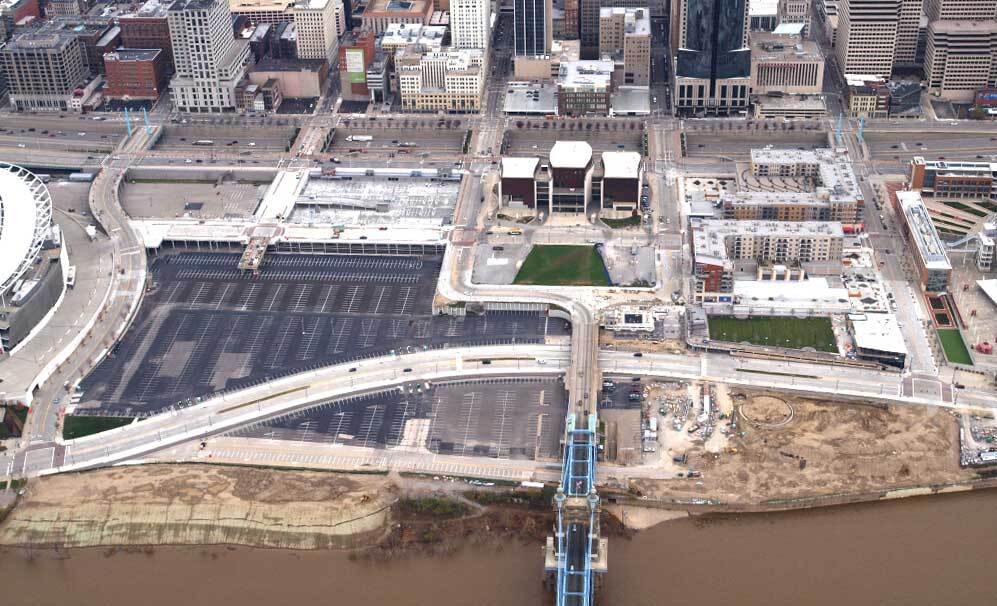 Cool Parks features make a splash
Another way that Parks can help you cool down on these hot days is by visiting one of Cincinnati Parks many spraygrounds. Spraygrounds are free and accessible water playgrounds within Parks. These water features offer residents a cool refuge from the summer temperatures, and are especially important for low income communities where 24/7 air conditioning might not be feasible. Check out these spraygrounds: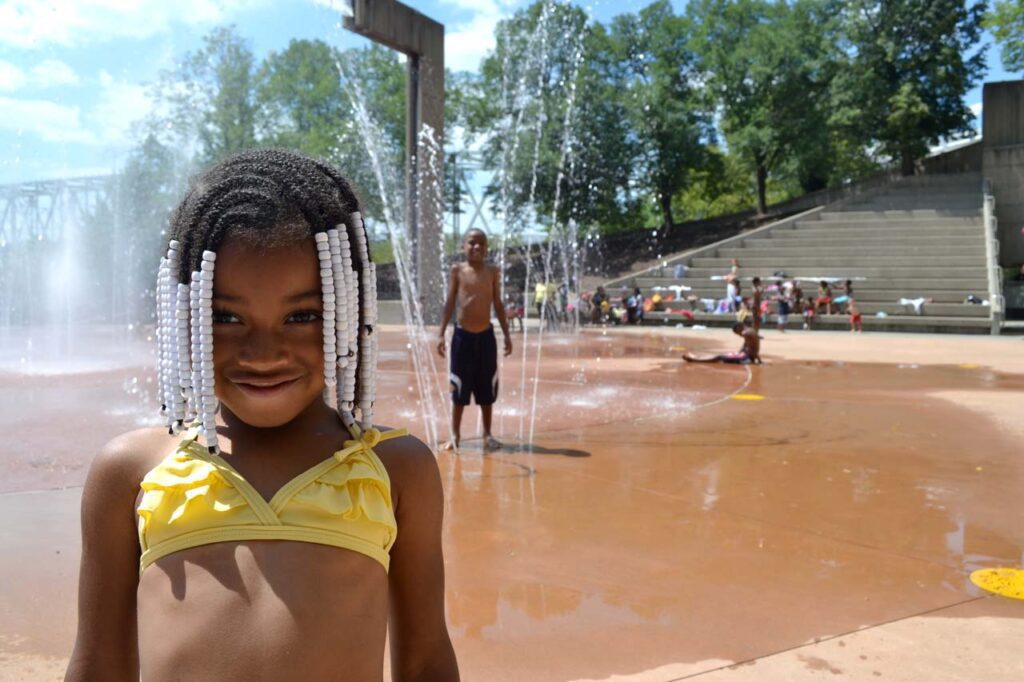 Be cool, support YOUR Parks
When you support the Cincinnati Parks Foundation you help fight the urban heat island effect in your city. As the primary philanthropic partner to Cincinnati Parks, we support their work. Together we plant hundreds of trees, conserve and expand public greenspace, maintain park features, and much more.