Cincinnati Parks Foundation and 7 Hills Neighborhood Houses invite all to attend the 5th Annual Ezz Fest in Laurel Park on October 1 from 10am to 3pm! This year's festivities include the reveal and dedication of the new Ezzard Charles statue and plaza. Other activities include a 5-mile race, community parade, live music, vendors, face painting, bounce houses, food from Ollie's Trolley, and much more!
Learn more about the Ezzard Charles statue project.
Ezz Fest and Statue Dedication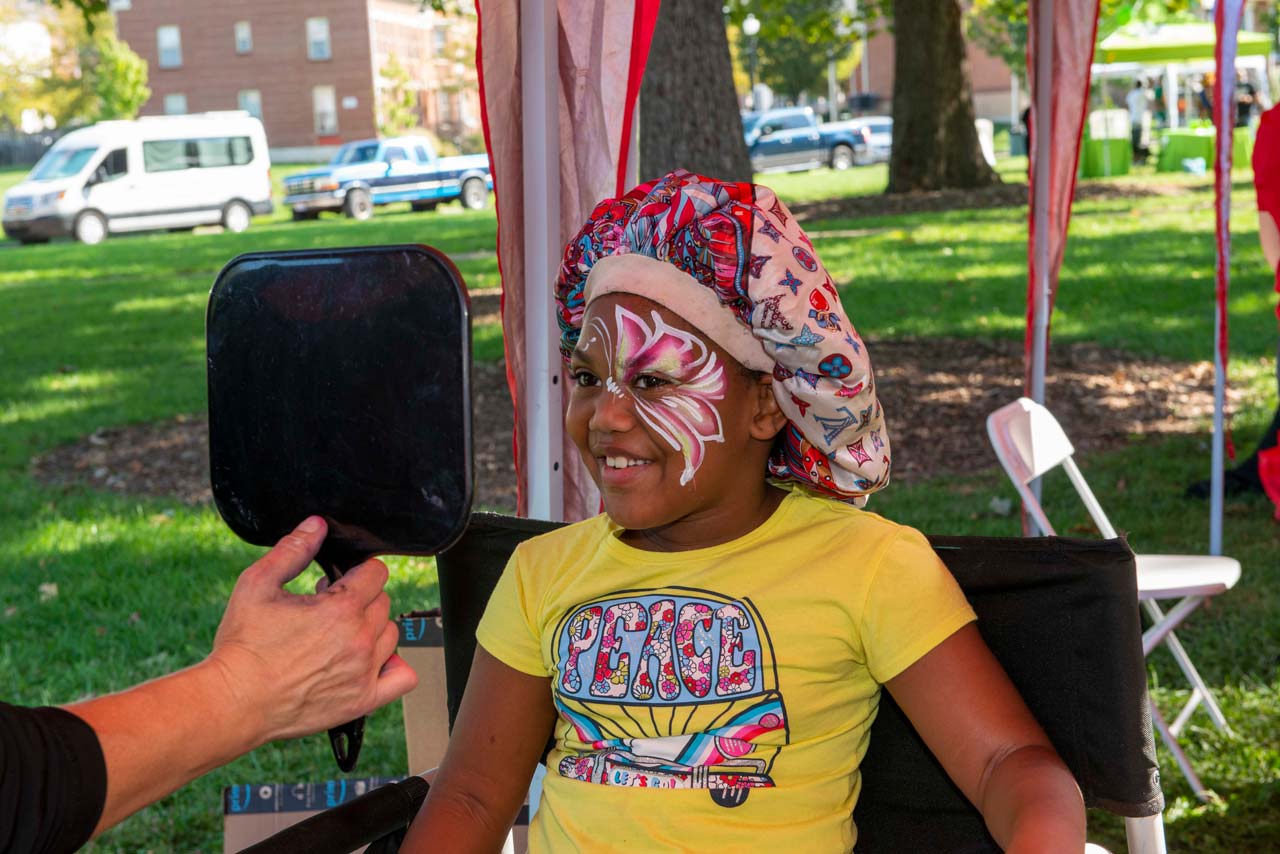 The Seven Hills Neighborhood Houses, West End Community Council, Cincinnati Parks, and Cincinnati Parks Foundation invite you to join in celebration of the 5th Annual Ezz Fest honoring the life and legacy of World Heavyweight Boxing Champion and favorite son of Cincinnati's West End, Ezzard Charles.
After a long road of careful planning, gathering community feedback, fundraising, and overcoming pandemic delays, the statue of Ezzard Charles in Laurel Park is finally becoming a reality! At 10am, Cincinnati Parks Foundation will unveil the completed statue!
Following the statue dedication, enjoy free food from Ollie's Trolley, live music, boxing activities, a family fun area, and local vendors, and much more.
This free fest will be fun for all ages and celebrate Ezzard Charles and West End's rich history.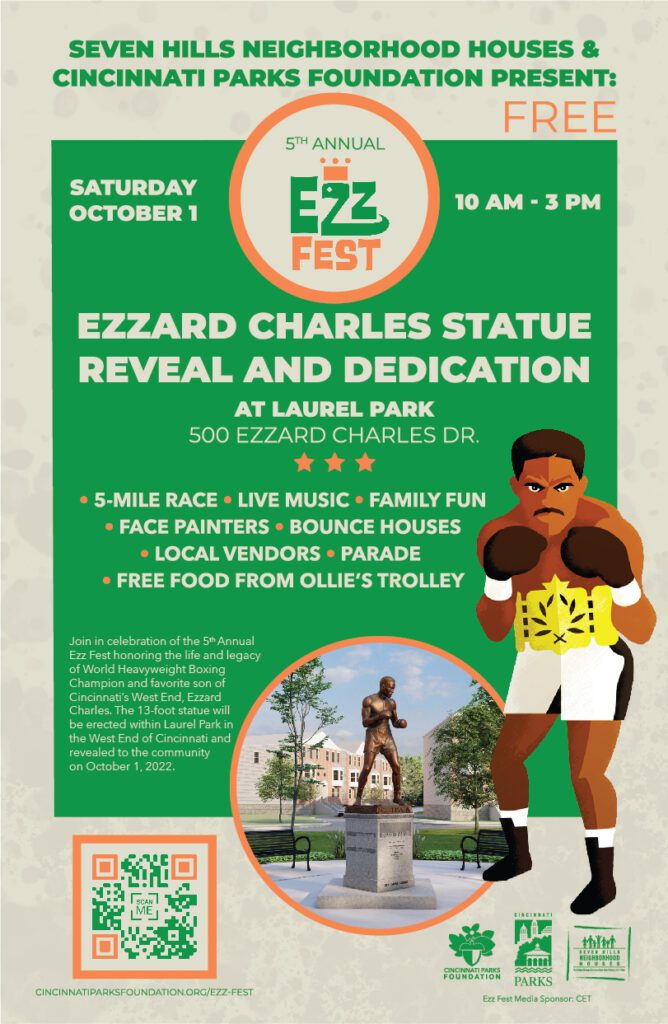 Cincinnati Cobra Race
When local boxing great and west-end resident Ezzard Charles, the "Cincinnati Cobra," prepared for boxing matches, he'd run on the streets and in the Parks of Cincinnati. Follow in Ezz's footsteps on Saturday, October 1 at 7:30 am at the CINCINNATI COBRA RACE on the Crosstown Climb.
Thanks to a collaboration between the Cincinnati Parks Foundation and go Vibrant, the "Crosstown Climb" route is a moderate 2.42-mile climb from Laurel Park to Eden Park and back. The race covers roughly 5 miles.
The race kicks off the Ezzard Charles Statue Dedication at Laurel Park
$25 (includes t-shirt and Cincinnati Parks Foundation sweat bands)
All race proceeds will be donated to the maintenance of Laurel Park through the Cincinnati Parks Foundation, the primary philanthropic partner of the Cincinnati Parks. An additional donation is not required to register for the race.
October 1, 2022 Full Agenda
Cincinnati Cobra Race:
7 am – Cincinnati Cobra 5-Mile Race Packet Pick-Up
7:30 am – Cincinnati Cobra Race start time
9:30 am – Race awards per category
Statue Dedication Area at Laurel Park:
9:45 am – Community Parade (meet at basketball courts near Laurel Playground)
10 am – Pre-program entertainment by Tracey Walker
10:30 am – Program Begins
11:30 am – Statue Reveal
Ezz Fest:
12 pm – Start time (free food service begins)
12:00-1:30 – Live music by Jazz Renaissance
1:30 – 3 pm – Live music TBD
2 pm – free food service ends
3 pm – Event Ends
Ezz Fest Sponsors:
Seven Hills Neighborhood Houses
Cincinnati Parks Foundation
Cincinnati Parks
Ezz Fest Media Sponsor:
Ezzard Charles Statue Dedication Committee
Cincinnati Parks Foundation Members:
Jennifer Spieser
Andrew Pytlik
Kate Gille
Emily Parker

Cincinnati Parks Foundation Board Members:
Jennifer Buchholz
Carrie Carothers
Andrew VanSickle

Cincinnati Park Board of Commissioners:
Linda Lee Thomas

Cincinnati Park Board:
Steve Pacella
Jenny Mobley
Tia Brown
Rocky Merz
Lou Sand
Matt Hood

Cincinnati City Council Members:
Jan-Michele Lemon Kearney

Cincinnati Community Members:
Alexis Kidd, 7 Hills Houses
John Hebenstreit, Sculptor
Stephan Pryor, Community Liaison
Duane Harmon, Sr., Community Liaison
Lisa Sensale Yazdian, CET
Dr. O'Dell Owens, Community Liaison
Keloni Parks, West End Library
Kailah Ware, Community Liaison/Film maker