We are proud to partner with yoga studios, personal instructors, and other non-profits in Cincinnati to bring FREE wellness programs to you! You can enjoy a variety of classes from yoga, meditation, martial arts, dancing, and more. Below is a list of current programs happening in Cincinnati Parks in neighborhoods across the city. Please sign a waiver (links below) before attending your first class.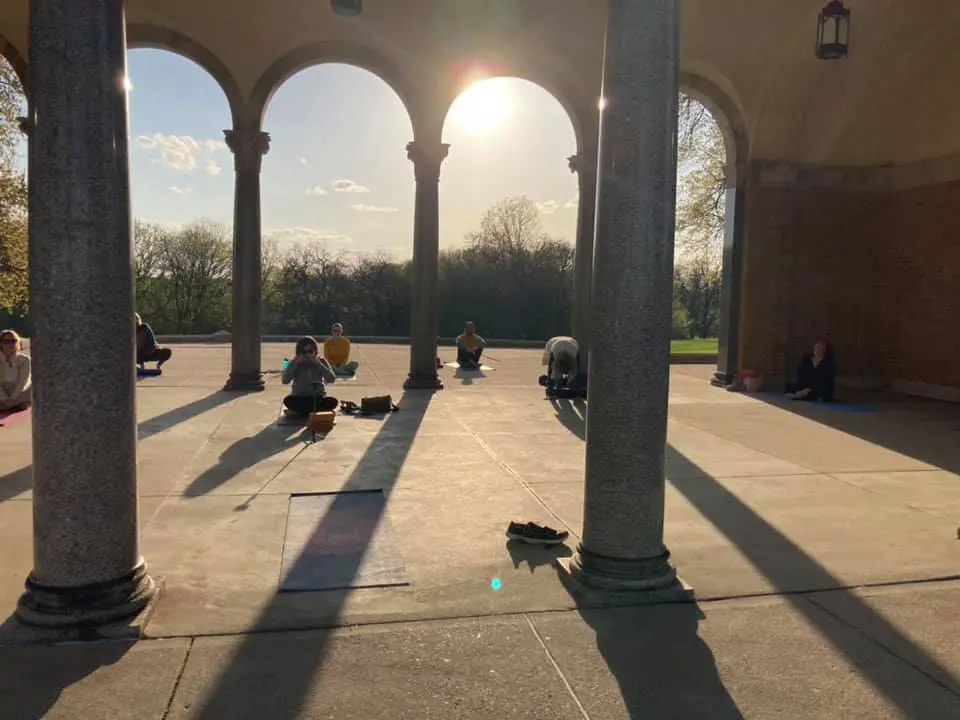 We are excited to partner with Price Hill Will and their "Let's Get Physical" program to provide FREE wellness classes to the community. Our funding provides 25 weeks of programming from May 2 to October 24, 2021 with 4 classes per week at Mt. Echo, Rapid Run and Olden View.
Tuesday restorative yoga w/ Brenda Tuesdays at 6PM at Rapid Run (last Tuesday of the month at Mt. Echo)
Join yoga instructor Brenda Zechmeister on Tuesdays at 6PM in a gentle yoga experience that will have you feeling relaxed and restored. The class takes place at Rapid Run Park near the lake. (In case of rain, meet in the shelter. If too cold, class will be on Facebook live.) All levels welcome.
Saturday Vinyasa w/ Kristina Saturdays at 10AM at Mt. Echo Park
Join Kristina on Saturday mornings at 10AM for a light body activation Vinyasa flow class for beginners and intermediate practitioners.
Sunday Vinyasa w/ Stacey: Sundays at 9AM at Olden View Park
Join Stacey Ann, RYT (200) every Sunday at 9AM for a guided and demonstrated Vinyasa practice designed to strengthen the body and calm the mind. We will include scaffolded poses to help build strength, endurance, balance, and flexibility while creating a positive intention for the rest of your week. The class overlooks the former Incline route into Price Hill and is situated next to the Incline Public House in a pocket park with sweeping views of downtown and the Ohio River.
Weekly Rotating "PASSPORT TO HEALTHY LIVING" classes at various park locations.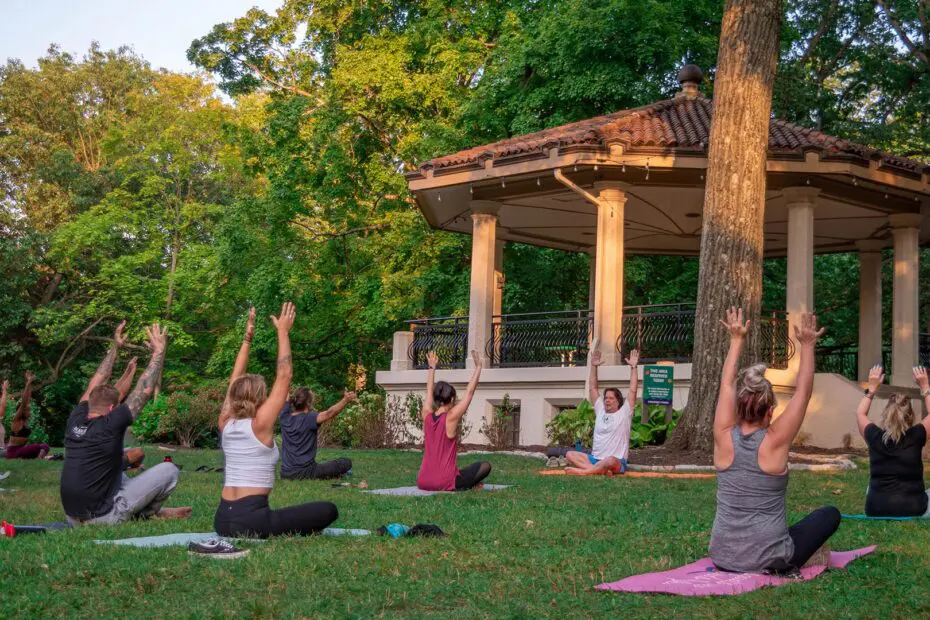 All levels welcome. Participants will enjoy free yoga classes, walking meditation, and special seasonal events in Burnet Woods. This series is made possible by the Cincinnati Parks Foundation Stewards of Burnet Woods.
Community Yoga (all levels) Sundays, 4:00-5:00 pm (year round) Location: Burnet Woods Bandstand
Community Yoga (all levels) Saturdays, 11:00-11:45 am/12:00 pm (year round) Location: Burnet Woods Bandstand
Walking Meditation and/or Forest Bathing Saturdays, 10:15-11:00 am (one-time series) 8-week session, May 8-June 26 Location: Burnet Woods Bandstand
Kids/Family Yoga Series 4-week session, July 10-31 Saturdays, 10:15-10:45 am (one-time series)
Cincy VegFest (Peace, Love, Veggies, and Yoga) Aug 28, 2021 10:00 am-8:00 pm
Summer Solstice Yoga (special event/class) Sunday, June 20, 2021 ~ 1:00-3:00 pm or 3:00-5:00 pm
Winter Solstice Yoga (special event/class) Tuesday, December 21 (hold special class on Sunday, December 19, 2021) ~ 1:00-3:00 pm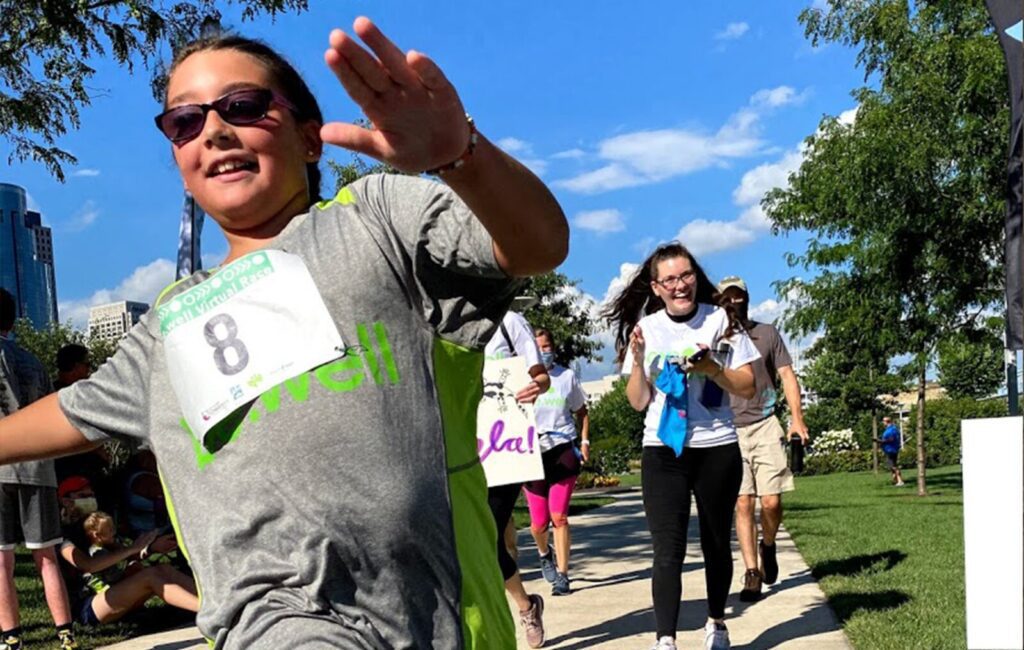 We are proud to once again join the be.well list of Cincinnati Children's Hospital community partners sponsoring this program in 2021 in Cincinnati Parks. Each year, this partnership will allow for children with diabilities and their families to get out and exercise together for FREE.
Program Length: April 1- April 30
Geocaching throughout Smale Riverfront Park with popsicle rewards
Finale: treasure find, Grow Up Great playground, May 1
Program Length: May 3-July
Our award-winning adaptive running program returns to Smale Riverfront Park with Fleet Feet Cincinnati.
Finale: Riverfront Park 5K, July 3 (10-3)
Program Length: June 7-July 18
Adaptive martial Arts will be taking place throughout June at the Labyrinth.
Finale: Smale Labyrinth, July 18
Program Length: June 28-September 6
Adaptive biking will take place along waterfront parks with a final race in September in conjunction with the Sunflower Revolution bike race.
Finale: Finish: 5 mile race, Sept 11 (Sunflower Rev versus end-to-end markered course in Riverfront Park)
Program Length: September 6-October 31
Adaptive hiking passport program and hikes with Luke5Adventures, ends with a final Halloween Hike at Caldwell Nature Center.
Finale: Halloween Hike, Caldwell Nature Reserve, 10/31
Program Length: January 3 – February 13, 2022
Adaptive yoga classes tentatively taught from Carol Ann's Carousel.
Finale: Valentine's Day at the carousel, February 13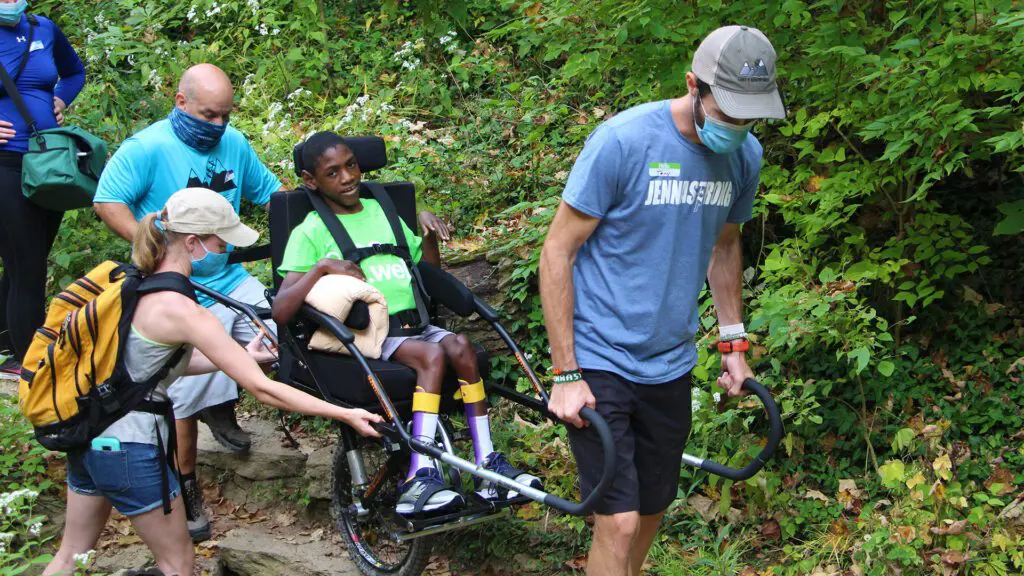 This special partnership between Luke5Adventures, Cincinnati Parks Foundation, and Cincinnati Parks is making it possible for those with disabilities to safely enjoy the benefits of being outdoors like never before. Using special all-terrain wheelchairs, called Rosies, trained volunteers are able to move hikers of any ability over rouged trails, downed trees, across creek beds, and much more. Hikes are roughly 1 hour long and depart from Everybody's Treehouse at: 9:00 a.m., 10:30 a.m., and 12 p.m. REGISTRATION COMING SOON.
DATES: May 8, June 5, July 17, August 14, September 11, October 9
FREE Community Yoga at Inwood Park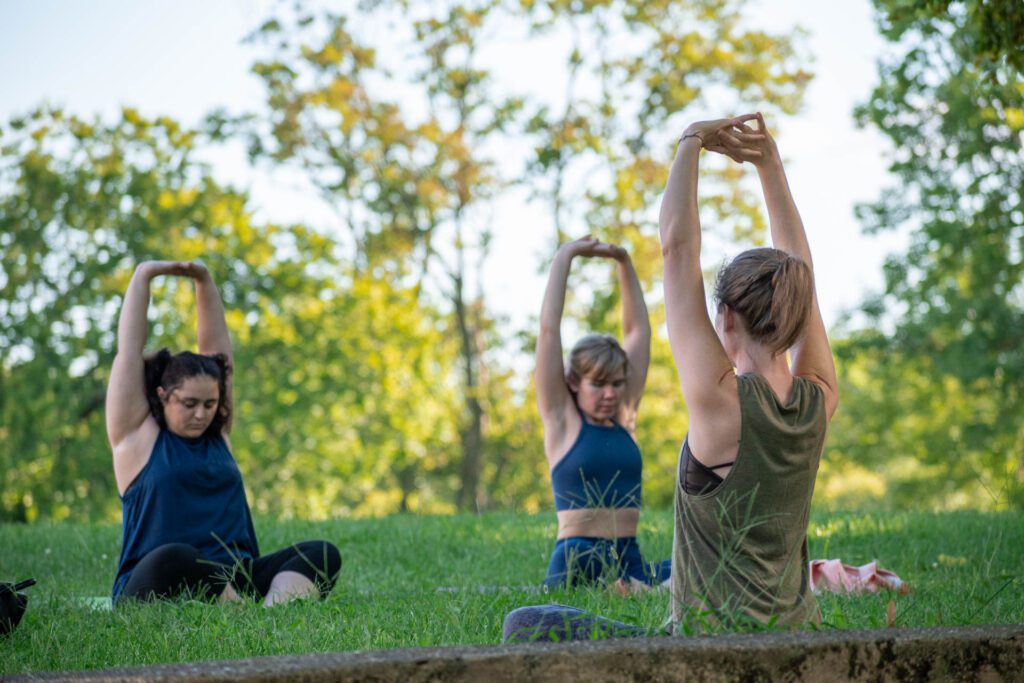 Beginning in June, FREE community yoga will be offered at Inwood Park. REGISTRATION COMING SOON.
Wednesday evenings at 6 pm June 2- September 29.