We all love Cincinnati Parks. But this time of year, it's fun to hear stories about those who found love in our Parks. We're sharing with you a few stories we uncovered. Because who doesn't love a good love story–especially today.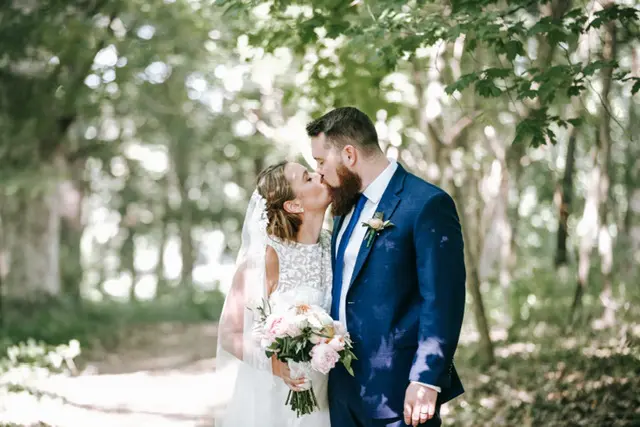 Cincinnati Parks are an ideal location for nature-loving couples, like Kelly and Nick Hoctor, native Cincinnatians who have always enjoyed the great outdoors. Kelly grew up exploring Cincinnati Parks while Nick grew up close to the Little Miami River. Their love bloomed, partially in thanks to a mutual love of all things nature.
As they began dating, French Park was a central location and quickly became a go-to spot to meet for picnic lunches and hiking dates. "Once we knew we wanted to spend our lives together, it was a no brainer that we wanted to be married outdoors. During one of our walks after lunch at French Park, we noticed how beautiful the view was walking down the hill and decided it was the perfect spot for a wedding," Kelly says.
Like so many couples, the pandemic threw a wrench into wedding plans. But having a wedding in French Park meant that the show could go on for this duo. While restrictions at the time meant that their wedding had to be a bit smaller than envisioned, the coupled tied the knot and said the day was just perfect in the Park.
Temple of Love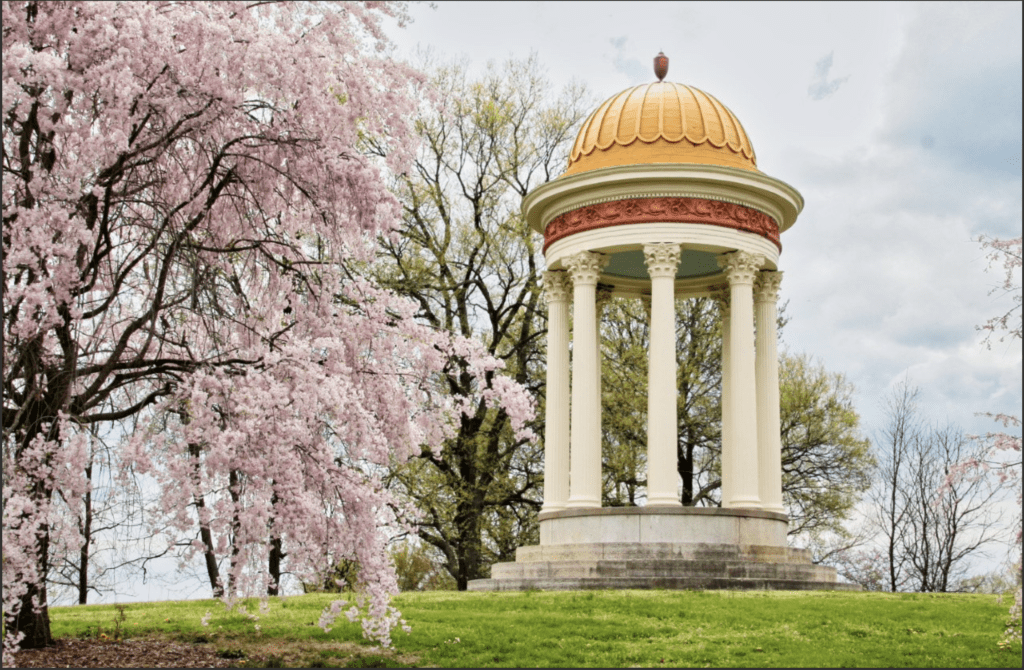 Love blooms in our Parks, and many happy unions get their start at the iconic Temple of Love in Mt. Storm. We've heard many a story about a proposal, wedding, and special occasion that took place at the Temple of Love, with many asking us about the history of this Mt. Storm structure. We interviewed local history buff Steve Early, author of "Amid the Honorable Plenty," a book depecting the early history of Terrace Park, about the origins of this columned rotunda. Mt. Storm was the estate of the Robert Bonner Bowler and his wife Susan Louisa Pendelton. The grounds of the estate were landscaped by Adolph Strauch, who also went to create Spring Grove Cemetary & Arboretum. "Strauch's work was spectacular and included greenhouses, many gardens, orchards, a lake, a waterfall, green lawns, paths and statuary throughout," Steve explained. Reminiscent of a folly found on the grounds of Versailles, the Temple was known as Temple of Vesta, after the Roman goodness of home and family. Steve said that "it was a rumor that the folly was built to entertain Edward VII, who, it was said, did not want to be hosted within a private home." Although the Bowler family did regularly entertain, including Charles Dickens, the rotunda was created to cover an underground reservoir which watered the massive estate and gardens. Practical in nature, this structure is now all that remains from the Bowler estate. The Bowler family had always welcomed the public to explore their grounds, which were sold to the City of Cincinnati in 1911 to become the Park we know today. The Temple of Love may no longer water the flourishing gardens, but it is the start to many a love story, including two we'll share with you today.
Marty & Tom Humes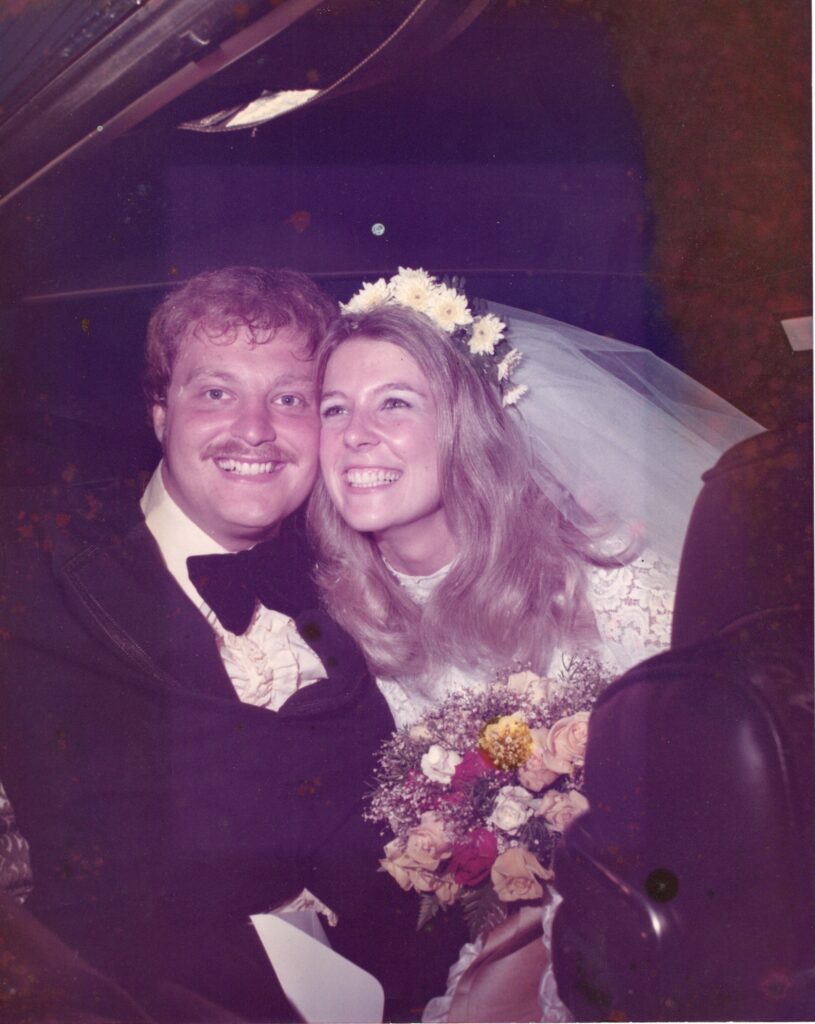 When Tom Humes proposed to his now wife Marty, over 50 years ago, Mt. Storm was the ideal location. However, it wasn't the Temple of Love that made the Park part of Tom's proposal plan.
"We were engaged there because Tom had just purchased a piece of property down the hill from Mt. Storm Park from former Bengals head coach, Sam Wyche. It was to be the location of the first three houses Tom's building company would build in 1973–50 years ago," Marty recalls. Tom cleverly used this property as a ruse to get Marty to drive with him to the Park after dinner at the Celestial Restaurant in Mt. Adams. On a very cold March evening, the couple drove to the site and Tom asked her to get her out of the car to walk over the hill and see the land.
As they were walking past the Temple of Love, he reached over and grabbed Marty's hand, asking her to marry him. "I felt something slip onto my ring finger in the dark, but I thought it was the metal ring from the 'pop top' of a beer can! When I glanced down, the light from the park's street lights revealed the diamond he had just placed on my finger. What a shock," she reminisces.
Steve and Marisa Groh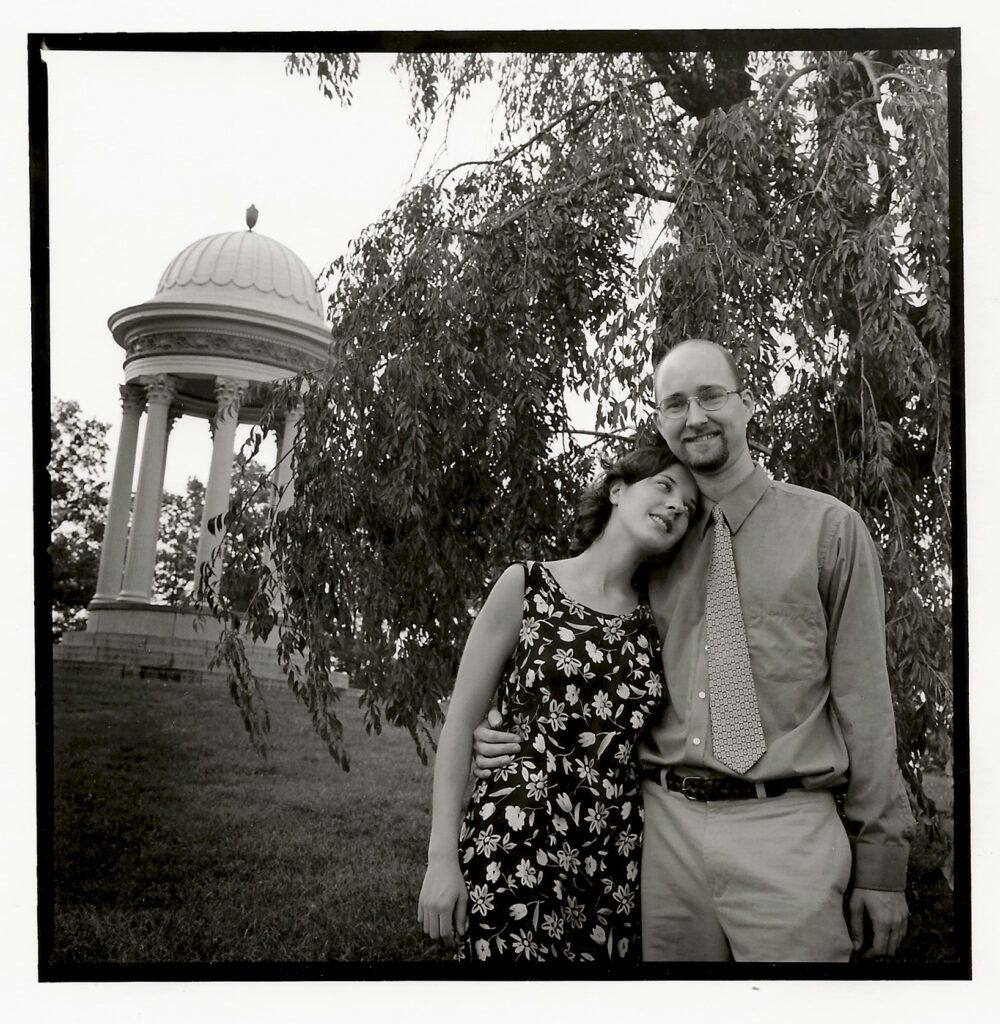 As a graduate student at the University of Cincinnati, Steve happened to be living near Mt. Storm off on Lafayette Street. His housemate was the great-niece of William Howard Taft, Katherine Benedict, an older woman who owned the home on Lafayette Street. Mrs. Benedict often had a graduate student living with her to keep an eye on things, acting as a surrogate grandchild. Steve filled that role as a student and also during his first year as an art teacher at North West High School.
He met his now wife of nearly 25 years at Sudsy Malone's, where they went to see the Royal Crown Review, a swing band made famous with their appearance in Jim Carey's The Mask. The night of their engagement, April 3, 1997, they were dressed in vintage clothing, Steve in a pinstripe suit and his beloved in a black dress and pillbox hat, to see the Royal Crown Review again at Bogart's. He invited her to meet him at the house on Lafayette Street for a quick dinner and convinced her to walk down to Mt. Storm Park first.
Steve had planned and had a string trio waiting, who had prepped the area with candlelight for ambiance and had shooed away curious onlookers, who were hoovering close by at the
Park's playground, waiting to see the proposal. Steve was sure that she didn't have a clue when she lightly complained about walking through grass in her heels and then mentioned, "It's weird that there are musicians, who are they playing for. . . " at which point Steve got down on one knee and popped the question, to the delight of the nearby crowd.
They left the Park in a vintage limo, a 1930s-style vehicle with large horns on the front, went to see Steve's parents and then to the concert. They made quite an entrance in their outfits and vehicle; at first, people assumed they were with the band. They won a swing dance contest that night, and Steve assumes the outfits had something to do with it. In true Cincinnati style, the rehearsal dinner for the wedding was at Arnold's, and their wedding reception was at The Taft Museum.
Love Grows in Parks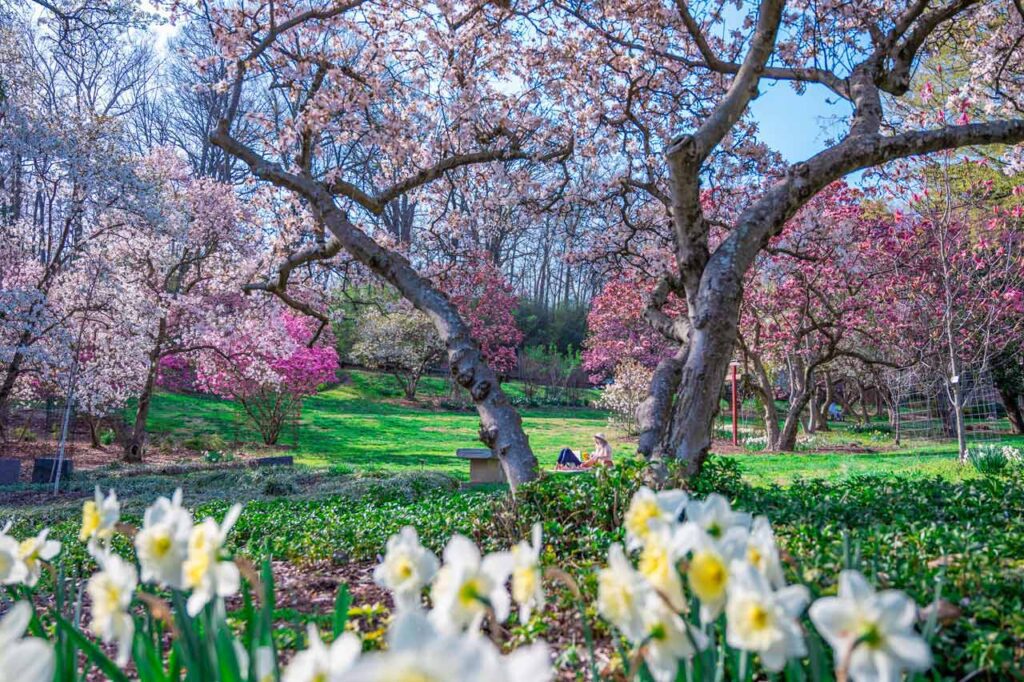 Love doesn't just start in our Parks. It continues to grow there, too. As part of our Memorial Tree & Bench program, we planted a tree in Ault Park to honor a life of a beloved husband and father. When his wife passed a few years later, we planted another tree next to it, as a reminder of the two individuals and the love that they shared.
If you love Cincinnati Parks, we hope you'll celebrate Valentine's day by strolling through your favorite Park today. If you have a love story that began in a Cincinnati Park, we'd love to hear from you. Send us a message and tell us all about it. Happy Valentine's Day!