We are erecting a statue of a West End advocate and icon, on the street named for him.
Ezzard Charles is a Cincinnati legend. More than a Heavyweight Champion of the World, Ezzard Charles was a West End resident, entrepreneur, renowned jazz enthusiast, and a brilliant Renaissance man. We are erecting a statue to honor his legacy within Ezzard Charles Park along Ezzard Charles Drive in the West End of Cincinnati.
Known as the Cincinnati Cobra, Ezzard Charles was a professional boxer and World Heavyweight Champion from 1949 – 1951. A long time Cincinnatian, he was also an entrepreneur, a musician, a multilinguist, and a good-will ambassador to the West End community, where he lived at the height of his boxing career. The statue is to be erected within Ezzard Charles Park in the West End of Cincinnati.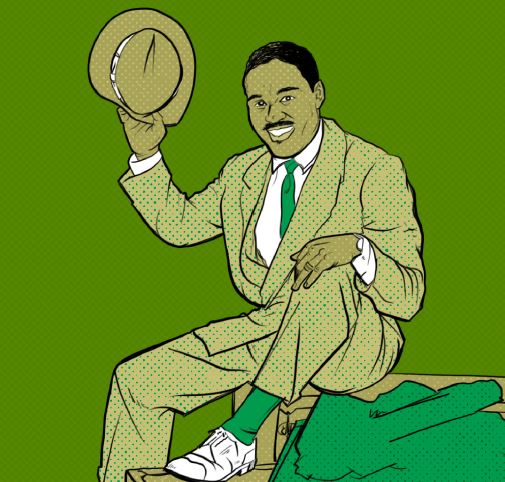 More than a statue, this project has ignited the community and partnerships across the city. Each October, the Seven Hills Neighborhood Houses host the annual Ezz Fest celebration, which features live jazz music, free food for the neighborhood, and family activities. MadTree Brewing, who also supports the Fall Releaf program, has joined the project by committing to donate more than 100 trees to the park and surrounding neighborhood.
The Ezzard Charles Statue in Ezzard Charles Park
Through the generosity of the Carol Ann and Ralph V. Haile, Jr. Foundation—as well as several other community partners—the bronze statue and plaza commemorating the life and legacy of Cincinnati's World Heavyweight Boxing Champion, Ezzard Charles, will soon be realized in the heart of the West End.
The statue is to be erected within Ezzard Charles Park along Ezzard Charles Drive in the West End of Cincinnati. Local artist John Hebenstreit, known for the Black Brigade monument in Smale Riverfront Park, began sculpting the 13-foot statue of Ezzard Charles in 2017. The work of the Ezz Committee—consisting of two former Haile fellows, designer Jason Snell & videographer Kailah Ware, as well as architect Jaipal Singh, writer James Cunningham, and Hebenstreit—supports the concept originated by CPF Board member and pop-artist, Andrew VanSickle.
The Ezzard Charles statue project prompted a revitalization of Ezzard Charles Park, including the sculpture, the planting of over 100 new trees, the installation of benches, wayfinding signage, a progressive web application (app), free public WiFi, and an accessible plaza for all to enjoy.
THANK YOU TO THE EZZARD CHARLES STATUE DONORS:
Heavyweight Champion
Carol Ann and Ralph V. Haile Foundation
Knockdown
CHAATRIK Architecture & Urban Design
CPF Emerging Leaders
Ernst & Young
FC Cincinnati Foundation
Greater Cincinnati Foundation
Jewish Cincinnati Bicentennial
MadTree Brewing
Montgomery Inn/Dean Gregory
PNC Charitable Trust
Mike Ruehlman
Perfetti Van Melle
Jab
Artswave
LaRosa's Inc.
The Maschmeier Boys & Girls
Jim Messner
Dr. O'Dell M. Owens
Punch
Andrew & Shanna Barton
Harry & Natalie Cappel
Cincinnati Bell
Adam & Rebecca Coleman
Fay Dupuis
The E.W. Scripps Company
Fifth Third Bank
GE Foundation
Tom Hankinson
Scott Kohlhepp
Macy's
Scott Oyler
Rosemary Schlachter
Taft Law
Thornton Family Charitable Fund
Brian Tiffany
EZZARD CHARLES COMMITTEE
Andrew Van Sickle
John Hebenstreit
Kailah Ware
Jason Snell
James Cunningham III
Ezzard Charles II
Bill Dettloff
Mike Ruehlman
Jaipal Singh
Ezzard Charles Statue Dedication Committee
Cincinnati Parks Foundation Members:
Jennifer Spieser
Andrew Pytlik
Kate Gille
Emily Parker
Cincinnati Parks Foundation Board Members:
Jennifer Buchholz
Carrie Carothers
Andrew VanSickle
Cincinnati Park Board of Commissioners:
Linda Lee Thomas
Cincinnati Park Board:
Steve Pacella
Jenny Mobley
Tia Brown
Rocky Merz
Lou Sand
Matt Hood
Cincinnati City Council Members:
Jan-Michele Lemon Kearney
Cincinnati Community Members:
Alexis Kidd, 7 Hills Houses
John Hebenstreit, Sculptor
Stephan Pryor, Community Liaison
Duane Harmon, Sr., Community Liaison
Lisa Sensale Yazdian, CET
Dr. O'Dell Owens, Community Liaison
Keloni Parks, West End Library
Kailah Ware, Community Liaison/Film maker
About the Race:
When local boxing great and west-end resident Ezzard Charles, the "Cobra", prepared for boxing matches, he'd run on the streets and in the Parks of Cincinnati.  Follow in Ezz's footsteps on Saturday, October 1 at 7:30 am at the CINCINNATI COBRA RACE on the Crosstown Climb. 
Thanks to a collaboration between the Cincinnati Parks Foundation and go Vibrant, the "Crosstown Climb" route is a moderate 2.42-mile climb from Ezzard Charles Park to Eden Park and back.  The race covers roughly 5 miles. 
The race kicks off the Ezzard Charles Statue Dedication at Ezzard Charles Park following the race at 10:30 am, followed by the annual Ezz Fest, a west-end community festival celebrating the life and legacy of Ezz, at noon.  Race participants are encouraged to stay for the festivities. 
Location of the race/event:
Ezzard Charles Park (500 Ezzard Charles Drive, Cincinnati, OH  45214)
7 am – Packet Pick Up
7:30 am – CINCINNATI COBRA RACE on the Crosstown Climb (moderate 5-mile race).
Registration:
$25 (includes t-shirt and Cincinnati Parks Foundation sweat bands)
All race proceeds will be donated to the maintenance of Ezzard Charles Park through the Cincinnati Parks Foundation, the primary philanthropic partner of the Cincinnati Parks. An additional donation is not required to register for the race.
Register here:  CINCINNATI COBRA RACE on the Crosstown Climb (runsignup.com)
Running Age Groups/Divisions:
Cincinnati COBRA Badges – Like the heavyweight title belt that Ezzard Charles (Ezz) proudly wore, the Cincinnati COBRA Badges represent various virtues and facets of our beloved hero.  Explore all four badges along the COBRA route during the race.
Champ - Male 1-35
Heart - Male 36+
Soul- Female 1-35
Spirit - Female 36+
Walker Divisions: Welcome at the back of the pack
Legend – Male
Legacy - Female
For questions, please contact emily@cincinnatiparksfoundation.org