Cincinnati property owners can get a free tree to plant in their yard and help improve the City's urban canopy.
Cincinnati Parks established the ReLeaf Program in 1988 to provide shade trees for Cincinnati homeowners FOR FREE. With the support of generous sponsors, Cincinnati Parks has given away over 20,000 trees in the 35 years of the program.
35 Years of Free Trees for Cincinnati
The Green Cincinnati Plan from the Office of Environment and Sustainability calls for the city to reach 40% tree canopy coverage because of trees' many benefits. The Cincinnati Parks' Fall ReLeaf program gives Cincinnati homeowners and CPS schools trees to accomplish this goal. 
Thanks to the support of many generous donors, including MadTree Brewing, Dynegy, and the Cincinnati Parks Foundation, homeowners can plant their free trees anywhere in their yards where the tree can thrive. This support also provides the trees to Cincinnati property owners at no cost.
Thanks to all who participated in this program in 2022.
Registration for the 2023 program will open soon, and trees will be distributed during the third week of October. The application portal will be available on the Cincinnati-oh.gov website in September. Please continue to check that website and follow Cincinnati Parks and Cincinnati Parks Foundation on social media for more information on when the application opens.
If you have further questions, please call the Park Board Administration office at (513) 357-2604 or email [email protected].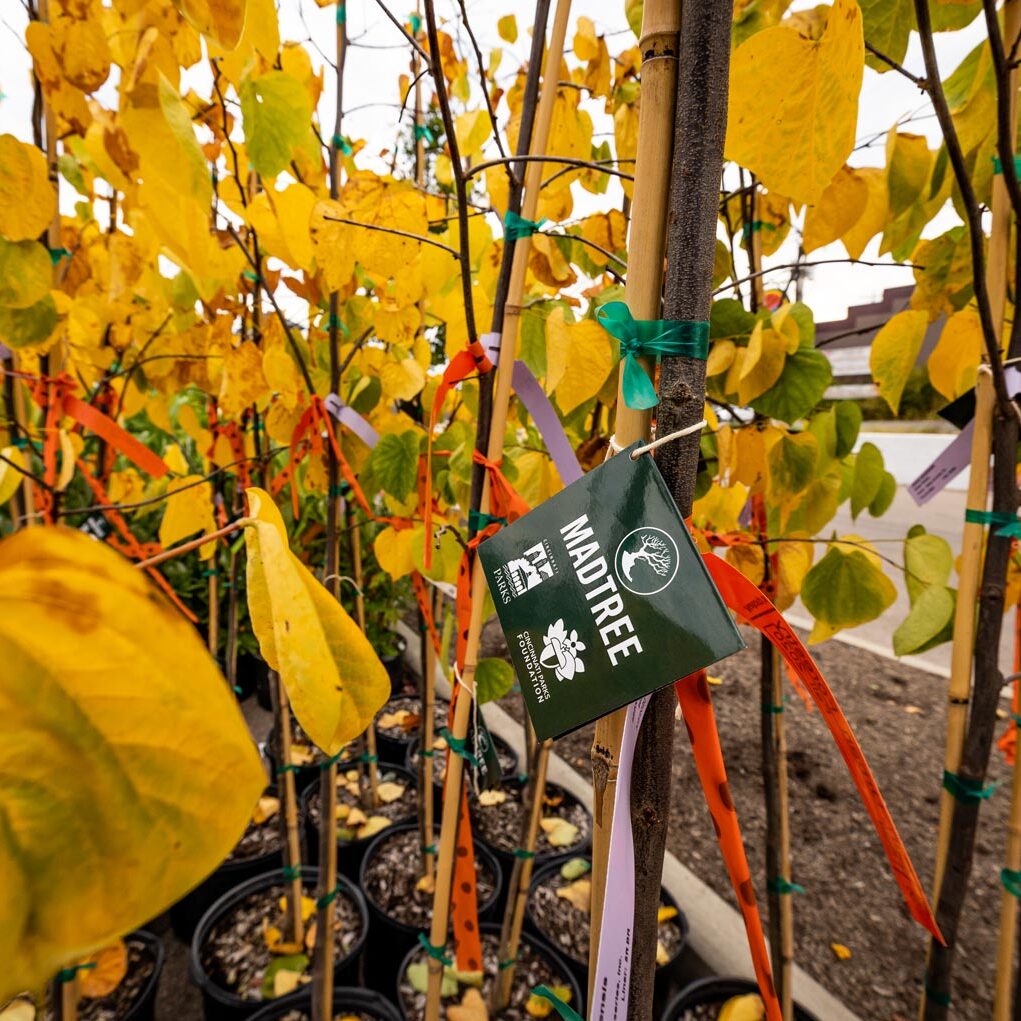 More information and registration for the 2023 ReLeaf Program will be available in summer of 2023.
Many neighborhood are below the goal for canopy coverage. Community members in these neighborhoods take priority and receive early access to registration. 
Avondale (37%)
Bond Hill (25%)
Camp Washington (8%)
Carthage(33%)
Corryville (14%)
Downtown (7%)
East End (30%)
Evanston (31%)
Hartwell (37%)
Linwood (28%)
Lower Price Hill (20%)
Madisonville (36%)
Mt. Adams (31%)
Oakley (26%)
Over-the-Rhine (13%)
Pendleton (12%)
Queensgate (10%)
Roselawn (26%)
Walnut Hills (33%)
West End (14%)

Do you know the many benefits that trees offer?
Trees remove pollution from the atmosphere, which improves air quality and health.
Trees absorb carbon dioxide (CO2) from the atmosphere, reducing the effects of climate change.
Trees save energy. According to the Arbor Day Foundation: "The average Cincinnati community tree saves the average household $56 annually in cooling costs by reducing electricity use."
Trees reduce the urban heat island effect by shading buildings and streets and releasing water vapor into the air. Urban trees can cool a city by up to 10°F.
Trees make us feel happier. Living and working in areas that has trees can improve mental health, mood and social connections.
Trees provide natural storm water management. A single large canopy deciduous tree can control 400 to 1,000 gallon of stormwater. This benefits homeowners by reducing soil erosion and manages flooding from rainfall.