Our CPAC grants support community programming offered across Cincinnati.
Cincinnati Parks Advisory Councils (CPAC) are volunteer citizen groups which seek to build and maintain public support for neighborhood Cincinnati Parks. CPACs provide feedback to the Cincinnati Park Board, advocate for their neighborhood park and organize community volunteer and programming events. We deeply appreciate the work done by each CPAC, which is why we created our CPAC Grant Program in 2019.
We believe the best people to program our parks are the community members
From Westside to Eastside, and North to South, Cincinnati Parks are being activated by members of active CPACs. Our grants support their family-friendly, accessible programs, which include outdoor movie nights, litter clean ups, silent discos, and more!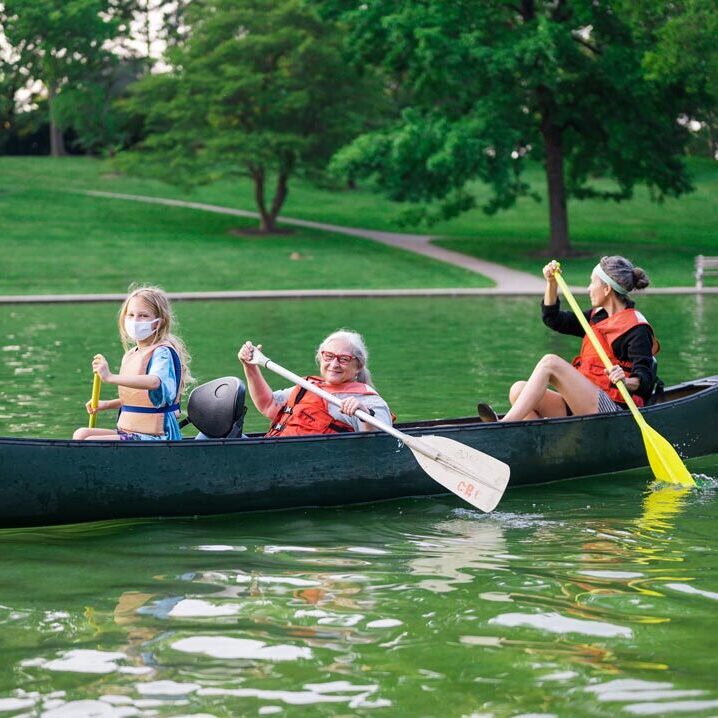 2023 CPAC GRANT AWARDEES
Park of Champions Advisory Council, Ezzard Charles Park, West End –  Less than a year after the unveiling of the bronze-cast statue of heavyweight boxing champion Ezzard Charles and the renaming of this park to honor this hometown hero, this newly-formed Advisory Council presents a boxing expo, featuring local boxing gyms, on Saturday, June 24 from 1-5pm.
CUF Neighborhood Association, Bellevue Park – Join the CUF Neighborhood Association, the Clifton Heights Business Association, Cincinnati Parks, Monigold Studios, Genesis Events, and other local businesses for live music from the Bellevue Pavilion on the First Friday of every month from May through October, 5-10pm.
Mt. Echo Park Advisory Council, Mt. Storm Park – Continue the city's Riverfest Celebration on September 3 with Riverfest West. The overlook at Mt. Echo Park offers a great view of the city and the fireworks. This is a family event, including activities and entertainment for the kids.
Mt. Storm Park Advisory Council, Mt. Storm Park – Save the date for August 15 from 7-9 pm for Mt. Storm's annual Shakespeare in the Park event. For their fifth annual event, the Cincinnati Shakespeare Company will perform Comedy of Errors on the back terrace of the pavilion with seating on the lawn below.
Olden View Park Advisory Council, Price Hill – Enjoy a kids' concert at Olden View Park on July 2nd. This event is presented in partnership with East Price Hill Improvement Association.
Rapid Run Park Advisory Council, Price Hill – Head to Rapid Run for their fan-favorite canoeing event on June 30 and August 4 from 6-8pm. Then join them on July 7 from 6-8pm with the CSO Music Lab, My Cincinnati, and "Build your own game" workshop. On July 14 from 6-8, this group will host creative crafts for the Goose Game and fun outdoor activities. My Nose Turns Red youth circus will perform at Rapid Run on July 21 from 6-8pm.
Kennedy Heights Park Advisory Council, Kennedy Heights – Join the Kennedy Heights Park Advisory Council every Wednesday from June 14-July 26 for Play in the Park. In partnership with the Cincinnati Parks, the Community Councils of Kennedy Heights and Pleasant Ridge, Kennedy Heights Arts Center, the Cincinnati Police Department, and the Public Library of Cincinnati and Hamilton County, enjoy free musical and theatrical performances, interactive, participatory art projects, and healthy food options.
Inwood Park Advisory Council, Mt. Auburn – Celebrate at Inwood Park for this group's 2023 Family Picnic and enjoy Rozzi fireworks, live music, children's games, face painting, food trucks and more. This event is presented in partnership with Mt. Auburn Community Council, Cincinnati Parks, Uptown Rentals, MACDC, and Neyer Holdings.
Alms Park Advisory Council, Mt. Lookout – From May 19-September 30 enjoy the Alms Park Mayfest and Bluegrass and BBQ events. These family-friendly events include live music, food trucks, beverages, and giveaways. Click here for more details.
Ault Park Advisory Council, Mt. Lookout –The Ault Park Summer Music Festival community concert series takes place from June through September on the 3rd Thursday of the month. These family-friendly events include live music, great food, kids' activities, nature programs, and fun social gatherings for the community. Click here for more information.
Burnet Woods Park Advisory Council, Burnet Woods, Clifton – Burnet Woods will be the location for several fun events this fall. Mark your calendar for Cincinnati's International Children's Day at Trailside Nature Center on Saturday, September 23 from 11 am-4 pm and Fall Fest at the Trailside Nature Center on Saturday, October 21, from 1-6 pm.
Fernbank Garden Club, Saylor Park – The Fernbank will host a garden plant exchange at the annual Sayler Park Harvest Festival on August 13.
Stanbery Park Advisory Council, Stanbery Park, Mt. Washington – On August 8, visit the Kyle Plush Pavilion for a performance by a woodwinds quarter from Cincinnati Symphony. You can also enjoy poetry readings thanks to a partnership with Tome Bookstore. You can also enjoy a "Paint the Pavilion" art class and get a lesson on painting the new Kyle Plush Pavilion on canvas.
California Woods Advisory Council, California Woods, California – You won't want to miss fun nights of storytelling under the stars at California Woods. Follow the luminaries up the steps to the Austin E, Knowlton campfire area, where the fun begins. Enjoy an optional short night hike between stories, and listen and learn about the sounds, sights, and smells of nature at night. Bring a blanket to sit on or cover up, if it is chilly. Event dates are Friday, September 22, October 27, and November 3 from 7-8:30 pm. All ages welcome, but stairs to the bluff are not stroller friendly.
Northside Greenspace Inc - Join this group for Cincinnati Black Pride Music Fest in the Park on July 22. This is a family day for all who want to enjoy live DJs playing contemporary music, as well as song and dance performances from local Cincinnati artists.
Now Accepting Applications for 2023
Cincinnati Parks Advisory Council Grants provided by the Parks Foundation to CPACs are for $1,500 per year. All events must be free and open to the public.
Applications are open 3/15 - 4/15 and 5/30 - 6/30 of 2023. Please see below for grant application link and frequently asked questions.
2023 Cincinnati Parks Foundation Grant Application